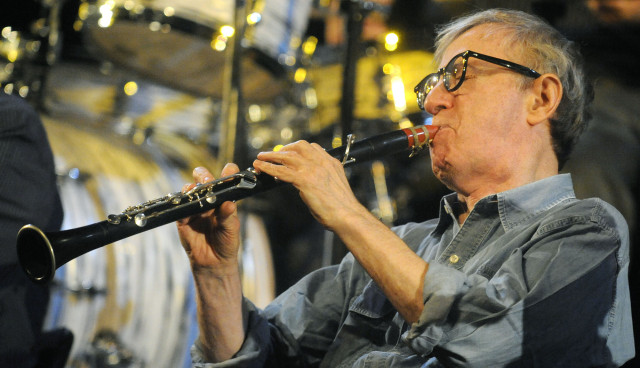 Woody Allen is out on tour in early August, with the Eddy Davis New Orleans Jazz Band. The small run of dates starts today in Minneapolis and heads to the west coast, in time for Allen to start production on his 2016 film. To coincide, Allen has done a couple of interviews about his love of music and jazz.
It is part of Allen's life that is not always talked about, but there are lots of fascinating insights. Some excerpts:
In the Minneapolis Star Tribune.
On Minnesota:
I've never been to Minnesota, you know. I read about it all the time. I like it. I've always liked its politics. I would like to spend a day there and see the town. I've always had a very positive feeling about it. Everybody in the band agreed that Minnesota would be a nice place to play, so we took the date.
He seems pretty clear on why he and the band gets asked to play.
The other guys in the band are great because they're real musicians. They read and they make a living playing music. I'm a tolerated amateur. I'm sure behind my back they roll their eyes and say, 'Well, we've got to have him in the band 'cause he's the movie name.' So it's strictly a hobby that took on a life of its own.
He also compared performing music to stand-up.
It's much easier. You're hiding behind the music, up there communicating with six other guys. Stand-up comedy is brutally hard. You're alone, you're talking to the audience directly and you've got to get laughs one after the other for an hour onstage.
In SFGate:
On San Francisco's role in his music career:
I wouldn't have played jazz if it wasn't for San Francisco. It was Turk Murphy's constant reassurance that I wasn't as horrible as I thought I was that kept me playing. It was really him that bears the responsibility. I remember we would shoot "Take the Money and Run" until 7 p.m. and then have dinner and then I would get back to the hotel and pull the covers over my head and practice the clarinet so I could play the next night.
On playing other forms of Jazz:
I couldn't even think of that. Those guys have such astonishing technique. Guys like Charlie Parker or Sonny Rollins, they're spectacularly educated. I couldn't play three chords like that.
The short tour begins tonight in Minneapolis. Find west coast dates here, before Allen and band return to New York in the fall.