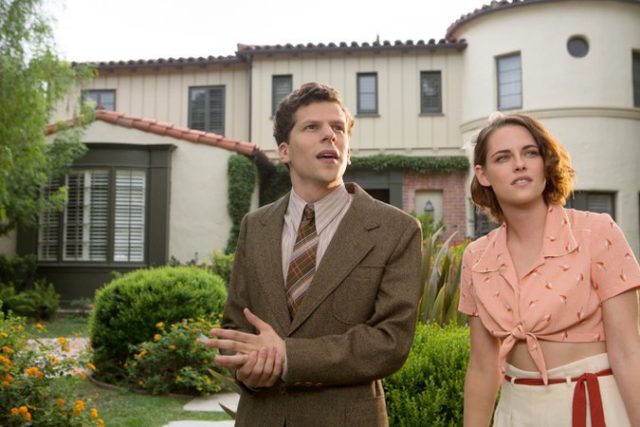 Café Society, the new film written and directed by Woody Allen, opens in France in just a week. In the lead up, we are starting to see some interviews with French press for both Allen and stars Kristen Stewart. Along with the articles, there are new photos. Note that some of this comes from Google Translate – so it is a bit mangled!
Woody Allen was on the cover of M, the magazine from the newspaper Le Monde. Wonderful Kristen Stewart fansite It's OK To Be You translated the article.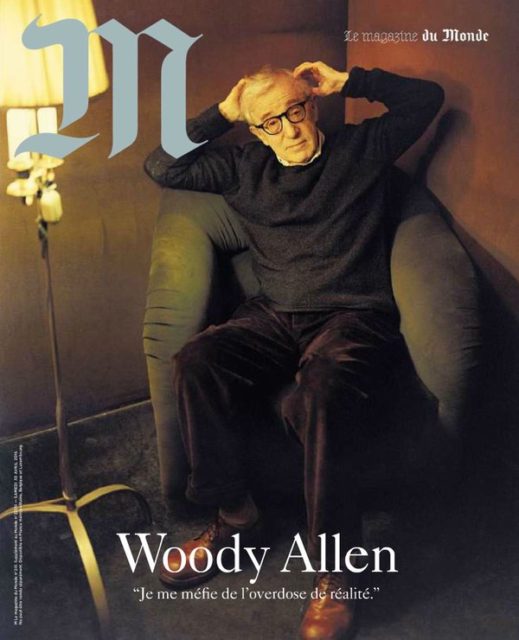 Minor spoilers! If you don't want to know anything, skip to the next bit!
The end of Café Society seems to him, and rightly, perfect. It came to him at the same time as the starting point of his film. Jesse Eisenberg's New York-Hollywood round trip is a love story with a young girl embodied by Kristen Stewart, met in Los Angeles. She became the partner of his uncle, celebrity agent, who divorced to marry her. Jesse Eisenberg and Kristen Stewart met briefly again. Their impossible relationship in life, becomes then a perfect love story since never experienced and destined to remain a dream.
Allen also spoke to News Republic. He talks about Vonnie, Stewart's character.
She simply chooses between two men. She does not know what will become the youngest: he will succeed his life in New York? And if it goes wrong, he will remain sweet and romantic? He will become embittered? While the other, she knows it reassures, it is generous. Other women take the risk of adventure, but she prefers a simple life with a successful man. question of temperament.
Allen talked about the Jewish family at the heart of his story.
It's easier to write about what we know. I spent my childhood in the midst of such families. They spoke the same mixture of Yiddish and American English, we loved it, it was playing it constantly, religion kept coming on the carpet. With an Italian or Irish family, I would have more difficulty. There I know the nuances.
Allen also spoke to L'express, but the article is behind a paywall.
Allen spoke to Spanish magazine Life And Style as well. Most interesting were Allen's comments that his time shooting away from New York maybe behind him.
I think after a couple of experiences around the world I realized that all this was ridiculous and that my life was my absolute priority. I want to be home at six in the afternoon and not at 10, go to dine at a restaurant with friends and taste. For example, if there is a place to film that looks more like Chicago, but you have to travel to Pennsylvania and sleep in a motel for three nights, I'd rather settle for a site that is not so good, but lets me stay in New York. I prefer to stay in New York.
New York Times also highlighted Café Society in their Summer Movie guide. They had a new image, which we used above.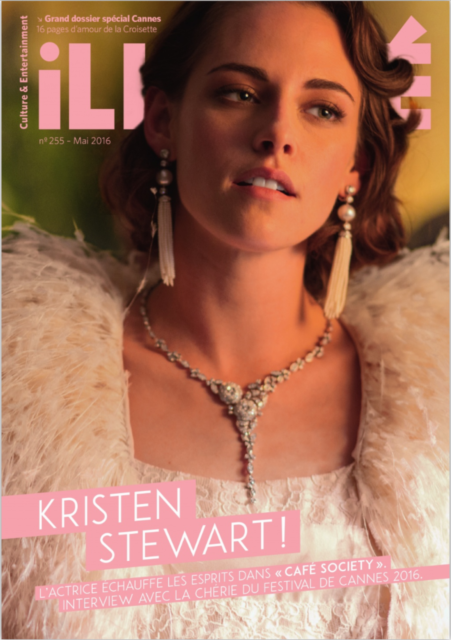 Kristen Stewart is on the cover of French magazine 'Illimite', who have a special Cannes edition. It's OK To Be You translated the article. She talked about working with Allen.
His film are like a genuine form of luxury craftsmanship, he's like a master craftsman. On set, he brings you into his world. He does everything in his power for you to be at ease, to have fun, so much that at the end of the day, you don't feel like you were working.
She also talked about working with Jesse Eisenberg.
We're friends, we saw each other grow up on three different sets. It's funny by the way, to see the evolution of the three couples we formed, from young innocent teens, to two people who are faced with the harsh reality of life and bad sentimental choices. Between us, it's easy. We can get vert nerdy together. So, i'm at ease with him. I'm not ashamed of anything, it's THE partner with whom I can relax.
Read the full thing at It's OK To Be You. They also have some images from the article.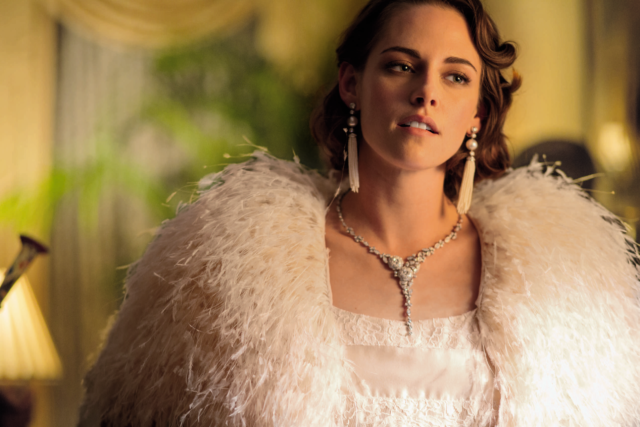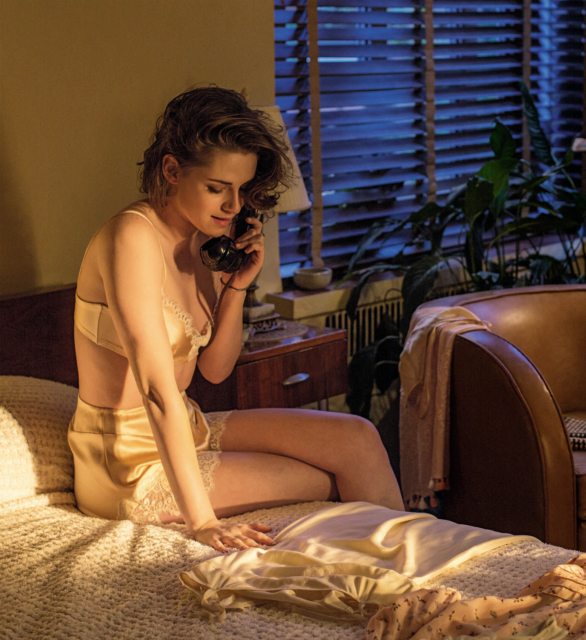 Stewart is also on the cover of Marie Claire in France.
The idea of working with Woody Allen was intimidating. During the auditions, I doubted about my own legitimacy. At the end, I was really glad, I felt anchored, rooted. He is deeply intelligent, his off-the-wall way of approaching things… he instills depth in moments of pure comedy, this strange lightness is truly impressive. I was lucky.
Again, more at It's OK To Be You.
There's bound to be more publicity, especially when the film opens the Cannes Film Festival on 11th May. We're hoping one of these interviews will give us a clue that there will be a 2017 film…