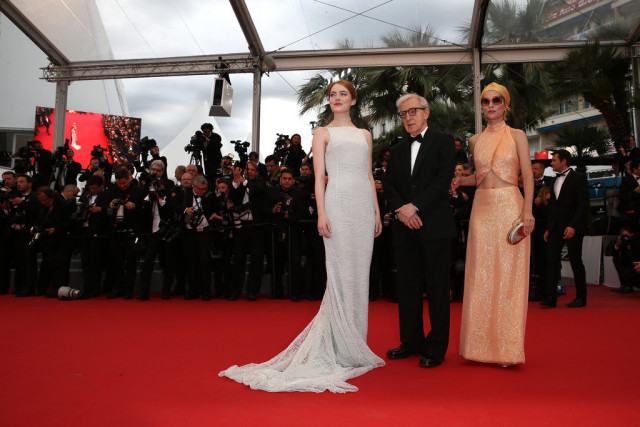 Irrational Man, the new film written and directed by Woody Allen, just premiered at Cannes. And the first reviews have started to roll in. Here's a wrap.
IMDB currently gives the film 7.8/10, so all in all a pretty good start. The films that seem to be most referenced are Match Point and Crimes And Misdemeanors. There's plenty of praise for Joaquin Phoenix and Parker Posey, but it seems Emma Stone is the best thing in the film.
The Hollywood Reporter says Allen got a two minute standing ovation at the screening. Allen's films aren't for everyone, although he is a critics and Cannes darling. Be interested to see what the public make of the film come July.
Woody Allen gets a warm welcome inside the #Cannes2015 theater (with Emma Stone and Parker Posey) for IRRATIONAL MAN pic.twitter.com/Wb0eIy1czf

— Sony Classics (@sonyclassics) May 15, 2015
On with the reviews. We are going to try and avoid spoilers. However, there are a couple of big plot devices that might be better to keep secret, so if you want to avoid it all, maybe skip these!
Variety were positive.
Allen's visual direction and editing rhythms are particularly sharp and precise this time around, as is his work with the actors. In her second teaming with the director (after last year's "Magic in the Moonlight"), Stone effortlessly captures the curiosity of young people with their whole lives ahead of them and none of the cynicism earned with age and disappointment. Phoenix, meanwhile, pulls off the trickier task of making us sympathize (at least fleetingly) with a sociopath, all the while avoiding the actorly deathtrap of "doing" Woody.
The Hollywood Reporter were into it
Allen's dialogue is witty, his plotting zings along with forward momentum in all the right places, and his observation of elastic moral principles in flux is both mischievous and unsettling, yielding a tasty final-act Hitchcockian twist. The film's relative breeziness plays in agreeable contrast to its sampling of weighty philosophical views and murky deeds as a daring bid for renewal.
ShowBiz411 liked it a lot
"Irrational Man" could teeter toward what we call the "smaller" Woody Allen films. But it's a movie of ideas that are framed in actual plot– very economically told. It falls into place much like "Match Point," effortlessly. And even though you know what Abe is going to do– and he does it– you still want to see what the outcome is. The ending, which you can guess once you're toward the end, but I won't tell you here– is sort of perfect for an existentialist.
Vanity Fair also liked it.
Stone, and the film's terrific final two scenes, are the best things about Irrational Man, which plays like a slight but enjoyable short story. There's nothing wrong with that—minor works can still be good—but if the film is, perhaps, trying to spark any deep thinking with its warmed-over philosophy, it doesn't succeed. Still, thanks largely to Stone, I have a perhaps irrational affection for the movie, surprising and satisfying as it is.
The Guardian weren't as warm.
Woody Allen has touched upon the notion of guilt before, in his heavy-going London drama Match Point, but most importantly in his wonderful Crimes And Misdemeanors, in which the crime is genuinely shocking. Irrational Man is a good idea, a sketch for a movie, but the movie itself is unrealised.
The Wrap were OK with it.
All in all, there is nothing to hate about "An Irrational Man," nothing to passionately love, but it should hit the Woody demographic just fine.
'Irrational Man' opens in the US on 17th July 2015.