News Bits! Our twice monthly round up of Woody Allen bits from around the web.
Chris Messina is a wonderful actor, but he's switching to directing. His debut as a director is 'Alex Of Venice', and he's out promoting it. He has talked about Woody Allen and his work on Vicky Cristina Barcelona, which Messina stars in.
First, Backstage magazine, with Messina on the cover, he talks about what he learnt from Allen's on set manner.
With Woody Allen, if he's talking to you, something's going wrong. If he leaves you alone, he feels like you're in the right pocket. With Skylar in this film, he was so open and an old soul who was best when I left him alone. Fantastic. Whenever I really gave direction, he wasn't as good. I did a lot of dumb things on the film, but the best thing I probably did was stay out of the way.
The Sag Harbor Express, on Allen being an inspiration.
Woody, as you guys all know, he casts his movies really well and then he kind of lets you go, and when I was in his movie, I never felt like I was making a movie.
Whilst talking to Huffington Post, he talked about a keepsake he kept from that film.
Here's the trailer for 'Alex Of Venice'
Tony Roberts is best known for his work in several Woody Allen classics – Annie Hall, Stardust Memories and more. He is starring in a new version of 'Carousel' in Chicago. ABC7 spoke to Roberts, and spoke about Allen.
Gradually we became very warm friends and he began casting me in movies. I did 6 films for him including Annie Hall, of course, and now we go to basketball games.
It's true. The two are still basketball buddies.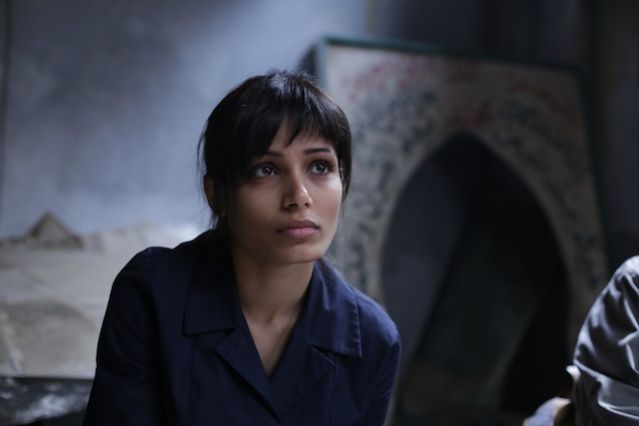 Freida Pinto has a new film out, 'Desert Dancer'. Talking to Metro, she shared what she learnt from Allen on the set of You Will Meet A Tall Dark Stranger.
According to the Hollywood Reporter, Hilary Swank wants to work with Woody Allen.
If @HilarySwank could move into any NY-set movie, she'd pick "anything by Woody Allen — anything at all" #THRNYpower pic.twitter.com/WgEv67esuK

— Hollywood Reporter (@THR) April 9, 2015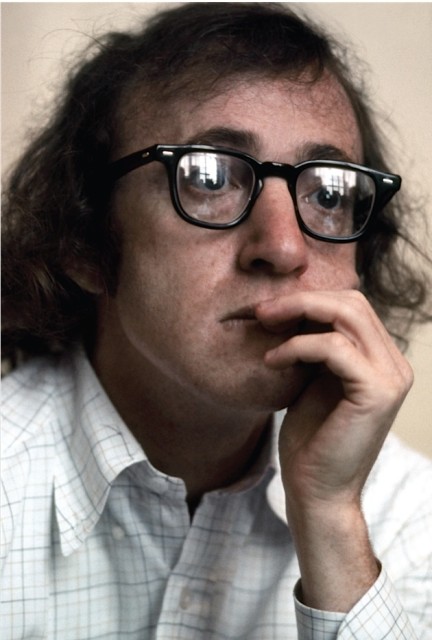 A new book collects the celebrity photographs of the late Gerald Davis.  It is called 'Strange Stories' and a preview in Jewish Daily Forward featured a photo of Allen. He also said this of the photo above.
He looks like someone you might see at a family get-together — just someone my dad might know.
Victor Levin is the director of '5 to 7', a new romantic comedy. The poster for the film apes 'Annie Hall', so we knew he was a fan. In a new interview with The Mary Sue, he spoke about Allen when listing his influences.
Woody Allen and Bill Forsyth, who made the wonderful movie Local Hero. And Whit Stillman who made one of my favorite films, Metropolitan.
There's already one Woody Allen sandwich (at the Carnegie Deli) and now there's a new one, at Drive In Sandwiches in Williamsburg, New York. Called 'Annie Hall', it has beef pastrami, swiss, tomatoes, onions, homemade coleslaw on a baguette.
Here's the menu. Find out more at bedfordandbowery.com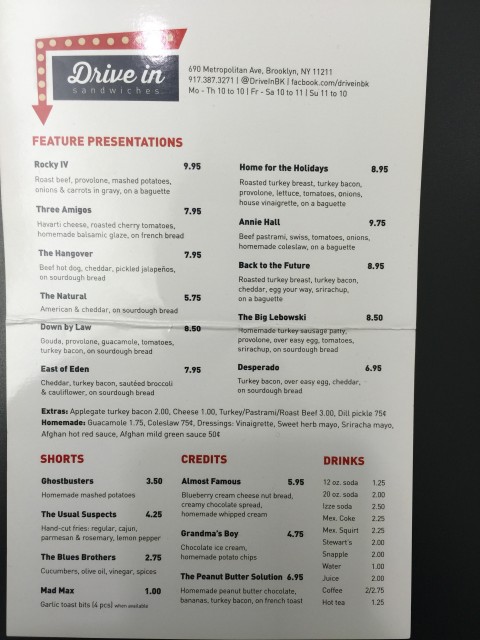 Great photo of Allen at New Orleans Jazz Fest from 1970. He had only made one film at this point!
Woody Allen at New Orleans Jazz Fest from 1970 @jazzfest @FQFestNOLA #clarinet @conalfowkes @WoodyAllenPages pic.twitter.com/IRG7dt9ng2

— WoodyAllen JazzBand (@jerryz) April 10, 2015
Fan art corner
Photo: Doodle of Woody Allen from my sketchbook. http://t.co/86sqVCvL5K

— Scott Sackett (@ScottSackett) March 31, 2015
Woody Allen meets Spider-Man.
Found this Woody Allen as Spider-man strip that I drew years ago. I thought it was funny at the time. pic.twitter.com/yZAkHNmkBU

— Paul G Cornish (@PaulGCornish) April 5, 2015