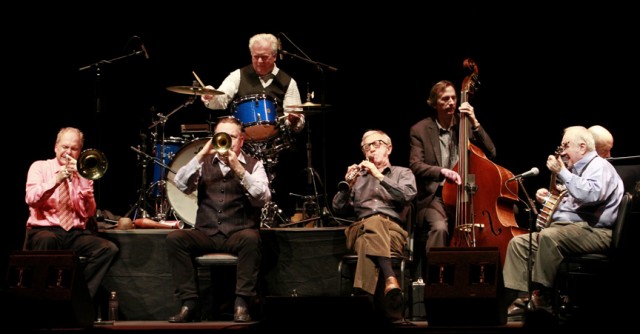 Woody Allen, more weeks than not, plays clarinet with the Eddy Davis New Orleans Jazz Band, Monday nights at the Carlyle Cafe in New York City. Adhering to his usual schedule, Allen and the band have locked in appearances from September through to December.
The bands trombonist Jerry Zigmont has put new dates on his website. He confirms a return to Monday night shows in September although the exact date is TBC. Dates will run through til December.
It coincides with the end of production on the 2015 film. It's Allen's yearly trend – filming in July and August and back at work by September and running until Christmas.
You can see a show at
The Carlyle Cafe.
35 East 76th Street
New York, NY 10021
You can get more information on 212-744-1600. Pricing details can be found on Zigmont's site. It's always a hot ticket and worth seeing if you're in New York.
Pic from MusicConnection