Entertainment Weekly has a scoop on Woody Allen's 2014 film Magic In the Moonlight. Along with a new pic featuring Colin Firth and Emma Stone, they have revealed some more about the plot details, as well as new quotes from Woody Allen and Marcia Gay Harden.
The scoop comes part of EW's summer movie guide in their latest issue. Here's the page (click to enlarge), with a transcript below.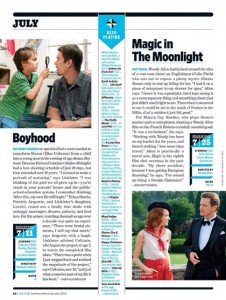 Woody Allen Had kicked around the idea of a rom com about an Englishman (Colin Firth) who sets out to expose a phoney mystic (Emma Stone), only to end up falling for her. "I had it on a piece of notepaper in my drawer for ages," Allen says. "I knew it was a good plot, but I kept seeing it as a contemporary thing and something about that just didn't smell right to me. Then when it occured to me it could be set in the south of France in the 1920s, all of a sudden it just felt good."

For Marcia Gay Harden, who plays stone's mother and co-conspirator, shooting a Woody Allen film on the French Riviera certainly sounded good.

"It was a no brainer," she says. "Working with Woody has been on my bucket list for years, and there's nothing I love more than travel." Allen is practically a travel pro; Magic is his eighth film shot overseas in the past decade. "By sheer accident because I was getting European financing," he says. "I've wound up being a foreign filmmaker."
So we finally learn why 'magic' is in the title. Stone plays a phoney mystic, and Harden is her mother. Interestingly, Allen has been sitting on this idea for a while.
The scan is not great, and we will update this article with higher resolution images when we get them. Here's the pic on it's own.
'Magic In the Moonlight' is due out on 25th July 20-14. We expect a whole lot of info between now and then. Fingers crossed this week to see if it will be announced for Cannes.