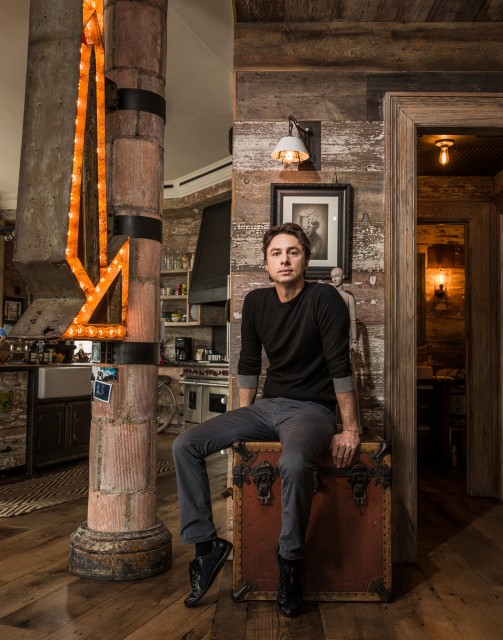 The New York Times has published a new lengthy piece by Zach Braff, charting his journey through theatre. Braff is currently starring in the musical of Bullets Over Broadway, based on the 1994 film by Woody Allen.
The article is wonderful, and Braff comes across as very charming. He also mentions that his first film role was for Woody Allen.
At 18, I was cast as Woody Allen and Diane Keaton's son in the film "Manhattan Murder Mystery," my first movie role. And now, after studying film and theater at Northwestern University, playing J. D. on "Scrubs" on TV for nine years and directing two films, I'm working with Woody Allen again. I'm typing these words in my dressing room at the St. James Theater, where on April 10 I'll open in "Bullets Over Broadway," a musical adaptation of his hit film. I play David Shayne, a struggling writer in 1929 New York who agrees to cast a mobster's ditsy girlfriend in one of his plays in order to get it produced.
He confirms that Allen has been at the previews, giving notes.
During "Manhattan Murder Mystery," I had every word of my lines memorized down to the punctuation mark. I'll never forget: The first thing Woody said to me was, "We're probably not going to say exactly what's on the page so … you know … just try to keep up. …" While we've been in previews on "Bullets," he and [director Susan Stroman] have been giving us notes each day on the previous night's performance. One night, I dropped a great joke by accident. He said to me with a smile, "You'll probably get a bigger laugh if you actually say it onstage."
The article also comes with our first really great photo of onstage action, featuring Helene Yorke and Lenny Wolpe.
We just could not be more jealous of people being able to see this show. The reactions to the previews have so far been fantastic. We are still starving for more details (like who sings which songs!) and eagerly awaiting reviews.
Read more about Braff's journey at the New York Times.