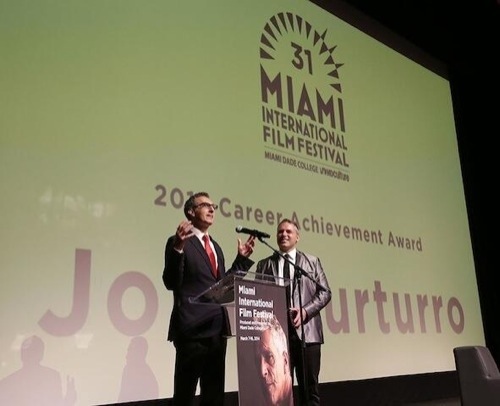 John Turturro is hot on the publicity trail for his latest film Fading Gigolo. Co-starring Woody Allen, the film was screened as part of the Miami International Film Festival. The festival also paid tribute to Turturro, and presenting him with their Career Achievement Award.
Turturro accepted the award at the Olympia Theater in Miami. The night began with an onstage interview conducted by David Edelstein of NPR. Miami New Times has a great write up and notes that Woody Allen was addressed.
The biggest applause of the night came when Edelstein addressed what he called the "elephant in the room," how has the latest scandal involving Woody Allen factored into how Turturro has presented the film. "I don't talk about people's personal lives," he said to swelling applause, and concluded, "and I would work with him again."
It was followed by a screening of 'Fading Gigolo', then the award ceremony. He was introduced by MIFF executive producer Jaie Laplante, who also introduced a video tribute for Turturro before Turturro himself too the stage and accepted the award.
Here's the video.
The video plays heavily towards Turturro's collaborations with the Coen Brothers, in particular 'Barton Fink' and 'The Big Lebowski'.
'Fading Gigolo' is released in limited cities in the US on 18th April 2014. We expect Turturro and the cast to make many more appearances in the weeks to come.