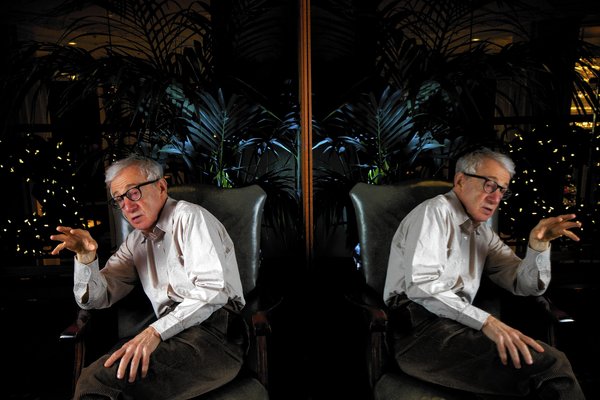 The Golden Globes happen this Sunday, and Woody Allen is expected to be a big part of it. Not only are two actresses from his latest film Blue Jasmine nominated (Cate Blanchett and Sally Hawkins), he will be the recipient of the Cecil B DeMille Award – in absentia. On the eve of that event, Allen did an interview with the LA Times, covering far more than the awards.
The interview was held in Los Angeles the day after Christmas, shortly after Allen and his jazz band played shows there. The interviewer is Mark Olsen.
On the Cecil B DeMille Award
"I'm not an awards person," the four-time Oscar-winner said. Allen noted that his initial reaction was to turn down the DeMille award outright but, once persuaded that it would be good for the movie, he acquiesced.

"I said if I don't have to watch it and I don't have to come to it, they can do anything they want," he noted.
He also mentioned his next film, Magic In the Moonlight.
Allen carefully guards the storylines of his upcoming projects. Meaning that when he refers to "Magic in the Moonlight," his upcoming film starring Colin Firth and Emma Stone, as "a romantic movie, amusing … It's a romantic comedy set in the South of France in the 1920s," it feels slightly like he's revealing state secrets.
Most fascinating, he mentions that 'Magic In the Moonlight' is finished and we get some tasty clues on his 2015 film.
The film after that, he goes on to say, will be set in the United States, though he would not confirm where — it depends in some part on where he decides he can stand to spend a summer.

When Allen says "the Colin Firth-Emma Stone film is over and history to me. 'Blue Jasmine' is ancient history," it perhaps speaks to the way in which Allen's work ethic and astonishing output — writing and directing a film a year for more than 30 years — also in some ways put him forever on the run.
Very exciting news. We assume but it's good to confirm a 2015 film. And it looks like both Stockholm and Rio will have to wait. It doesn't sound like it's going to be set in New York automatically. Could this be the comedy he wanted to make with Louis C.K.?
Lots more over at the LA Times.
The Golden Globes take place on 12th January 2014. We know that Diane Keaton will be receiving the award on behalf of Woody Allen. We also found out today that Emma Stone will be presenting the award.