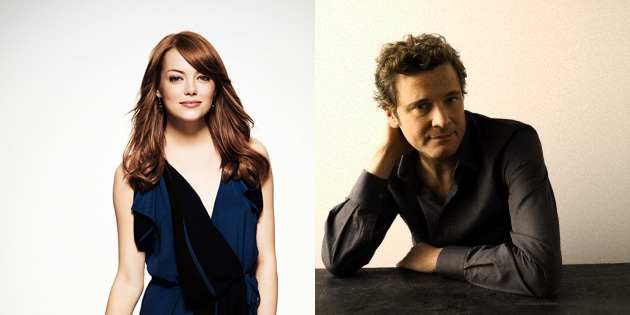 There's been reports on talks and verbal confirmations, but today we now have our first official information on Woody Allen's 2014 film. Emma Stone and Colin Firth's casting is set, as well as the location, genre, some of the crew and other small details and hints.
Here's the officially released statement.
Woody Allen's new, untitled comedy will star Colin Firth and Emma Stone. The Gravier Productions film is produced by Allen's longtime associates, Letty Aronson and Stephen Tenenbaum.

Set in the South of France, Allen will shoot the film this summer, once again collaborating with cinematographer Darius Khondji (MIDNIGHT IN PARIS, TO ROME WITH LOVE), production designer Anne Seibel (MIDNIGHT IN PARIS, TO ROME WITH LOVE) and costume designer Sonia Grande (MIDNIGHT IN PARIS, TO ROME WITH LOVE and VICKY CRISTINA BARCELONA).

This latest film marks Allen's second time filming in France and his eighth set in Europe. His previous European films are: TO ROME WITH LOVE (Rome), MIDNIGHT IN PARIS (Paris), YOU WILL MEET A TALL DARK STRANGER (London), VICKY CRISTINA BARCELONA (Barcelona), CASSANDRA'S DREAM (London), SCOOP (London) and MATCH POINT (London).

Allen's upcoming film, BLUE JASMINE, will be released on July 26 by Sony Pictures Classics.
Lets have a look at what this press release tells us.
First, a confirmed return to comedy.
Stone and Firth have both signed on.
Allen's own Gravier Productions and longtime producers Letty Aronson (his sister) and Stephen Tenenbaum are on board as usual.
South Of France is confirmed. No mention of Spain.
Filming to happen this summer, keeping with Allen's recent schedule. In particular July and August.
Khondji, Seibel and Grande are back on board and keeping the successful band together.
It will actually be Woody Allen's third time in France. 'Midnight In Paris' of course, but also Everyone Says I Love You.
This is about as much as we are to expect at this stage. We look forward to hearing more about the cast, with the title and plot of the 2014 film to come much later.
This is great news to our ears. We look forward to covering all the developments on Allen's next "next film".