'The Unbelievers' is a new documentary following Richard Dawkins and Lawrence Krauss, and features Woody Allen as one of the many talking heads. Announced for 2013, we now have a worldwide premiere date, as well as a poster.
Here's the synopsis.
The Unbelievers follows evolutionary biologist Richard Dawkins and theoretical physicist Lawrence Krauss across the globe as they speak publicly to sold-out halls, advancing a thoughtful dialogue about the importance of science and reason in the modern world. Dawkins, the world's most famous atheist, and Krauss, director of the esteemed Origins Project, are dedicated to furthering the (r)evolutionary idea that science, above all else, should inform man's understanding of the universe.
And the poster.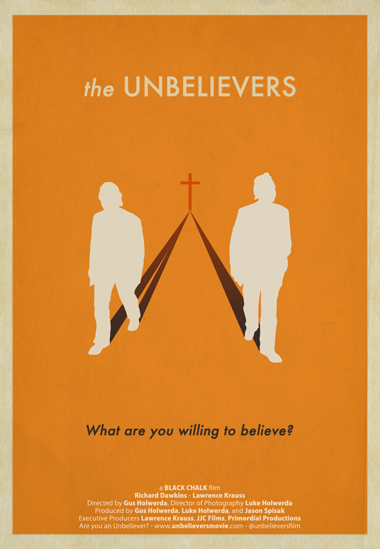 'The Unbelievers' will make it's worldwide premiere as part of Hot Docs, the Canadian International Film Festival. Three dates have been announced, all in Toronto.
Mon 29th April, 6:30pm
Bloor Cinema
Wed 1st May, 3:00pm
TIFF Bell Lightbox 1
Sat, 4th May 1:30pm
Isabel Bader Theatre
These are the only dates we have for the documentary. It is slated for a 2013 release, so we hope to hear news of a wider release very soon.
Check out our previous coverage of the trailer and the other guest stars.
Richard Dawkins, The Unbelievers, Lawrence Krauss,