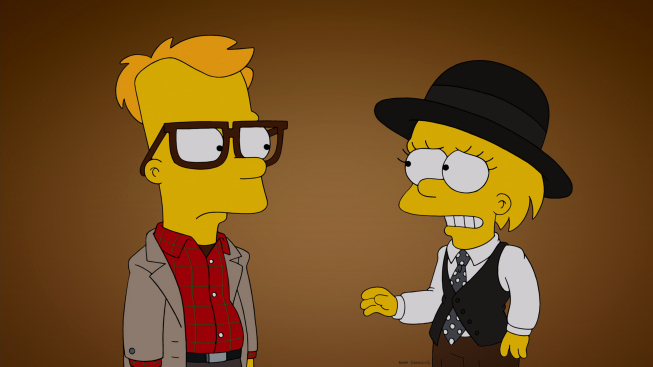 Woody Allen returns to The Simpsons for a second appearance this season – their 24th. He appeared in the season premiere 'Moonshine River' in September last year. That storyline continues on the 10th February 2013 episode 'Love is a Many-Splintered Thing'. Both episodes feature a new love interest for Bart named Mary Spuckler (Zooey Deschanel).
According to publicity photos (do we call them photos?), also suggests the episode is an Annie Hall homage. The Valentine's day themed episode features Bart dealing with breaking up with Mary. One scene is clearly Bart and Lisa dressed as Alvy and Annie from 'Annie Hall'. FOX also released a clip featuring Allen giving Bart advice.
This is, of course, not Woody Allen himself, but a portrayal of Allen. We do not know who's doing the Allen imitation – but it's certainly one of the better ones – with plenty of in-jokes for Allen fans.
It is, of course, not the first time Allen's been in the Simpsons, however this might be the most explicit tribute yet. We did a full round-up of Allen's appearances and references on the Simpsons last year.
'Love Is A Many Splintered Thing', the 520th(!) episode of the Simpsons airs February 10, 2013 on FOX in the US. Check out the images released by FOX below.