Our bi-monthly round up of Woody Allen bits from around the web. This week – Hemingway revisits Manhattan, Bobby Cannavale on being a big actor and more.
RedCarpetNewsTV spoke to Mariel Hemingway in a new video interview. She discussed her grandfather, Ernest Hemingway, and how he was protrayed in Midnight In Paris. She also spoke gushingly about her experience of making Manhattan.
Monica Nappo Kelly played Roberto Benigni's wife in Woody Allen's film from last year To Rome With Love. She spoke to Andrew Elias about working with both screen legends.
What was it like to work with Woody Allen?

To work with Woody Allen is great as he's such a master! The process of selecting the actor is really hard and long, but once you're there, working with him, he really trusts you and you can improvise a lot.

And…how was it doing scenes with Roberto Benigni?

Working with Roberto was great because he's got a great sense of comedy and tragedy at the same time, like Chaplin, I guess. Roberto is really generous and cool, so I always felt really confident and free; we had great laughs together, and in our breaks he used to play for me The Divine Comedy by Dante Alighieri, as he's a big expert about this subject. So I was listening to him while I wasn't working, what a privilege!
Bobby Cannavale, who is appearing in Blue Jasmine, was recently featured in the Huffington Post. In the article he discussed his heroes, including Woody Allen.
Woody Allen called, wanting to meet. Bobby had heard dozens of stories about what to expect when face-to-face with this particular legend. Upon arrival he was told to keep his jacket on because the meeting might be, "very quick." Inside the office Bobby watched Woody stand and approach him with a smile. He gripped Bobby by the shoulders and gave him a solid shake.
"Oh, you're big," Woody said, kicking Bobby's tires, circling him. Another shake. "So big."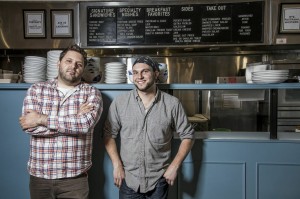 'Blue Jasmine' was made mostly in San Francisco. While he was there, he ate at Wise Sons Deli in Mission, San Francisco. The chefs and owners – Leo Beckerman and Evan Bloom – spoke about Allen in a new interview with Eater.
What's been your favorite part of the past year?

EB: Number one moment: we had a gentleman celebrate his 100th birthday at Wise Sons. It's a tie between that and Woody Allen eating here.

When Woody Allen was here, did you know beforehand, and did you prepare?

LB: Yeah, we knew before.

EB: They called, said they were going to come in, and asked for a reservation. We don't take reservations, but…

LB:…we were slow that day.

EB: So I knew he was coming in. He ordered matzoh ball soup. I definitely made separate soup for him. I made sure it was perfect. I went through all the matzoh balls to find the perfect one. Even if he never comes back…

LB: He won't.

EB: He probably won't.

LB: For his 100th birthday.

EB: It's nice to know that I served him the best that I could.

He just ordered soup?

EB: Matzoh ball soup and a piece of kugel. A very Jewish order. His sister got pastrami with mayonnaise.

Really?

EB: Really.

LB: Don't write that. Please.

EB: [Laughs.] Why?

LB: 'Cause I don't want to say that we served someone mayonnaise.

So, is he technically the only person who's been given a reservation?

EB: Well, let's put it this way: Woody Allen walked in on a Thursday, no problem. Sat right down. Mark Zuckerberg was here the following Saturday and waited an hour and a half.
Online fashion store Another Love are offering this very cute Woody Allen shirt.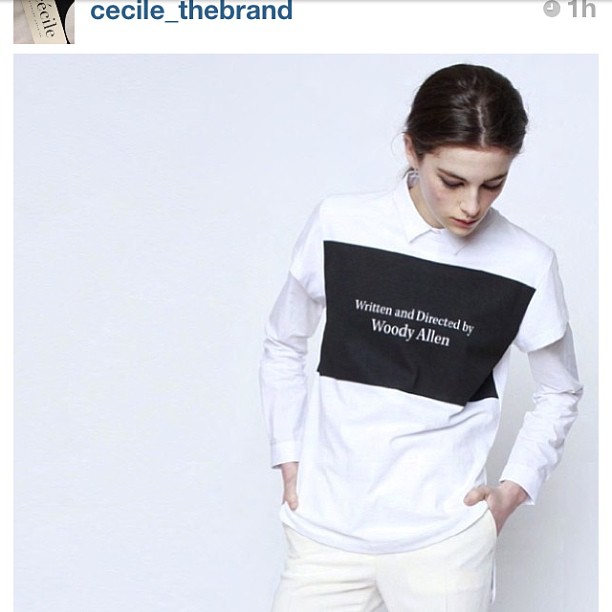 Finally, a couple of new bits of fan art
Roberto Weil made this Allen tribute.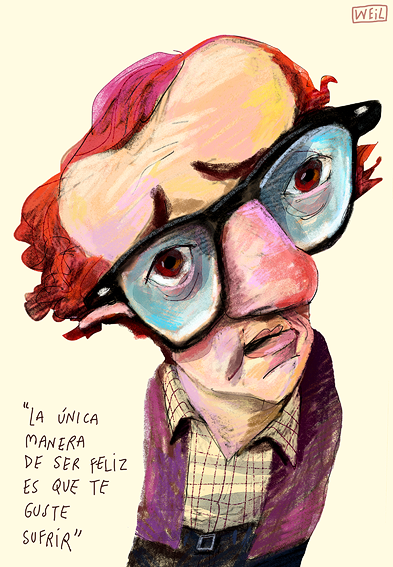 Lance King sketched this one.