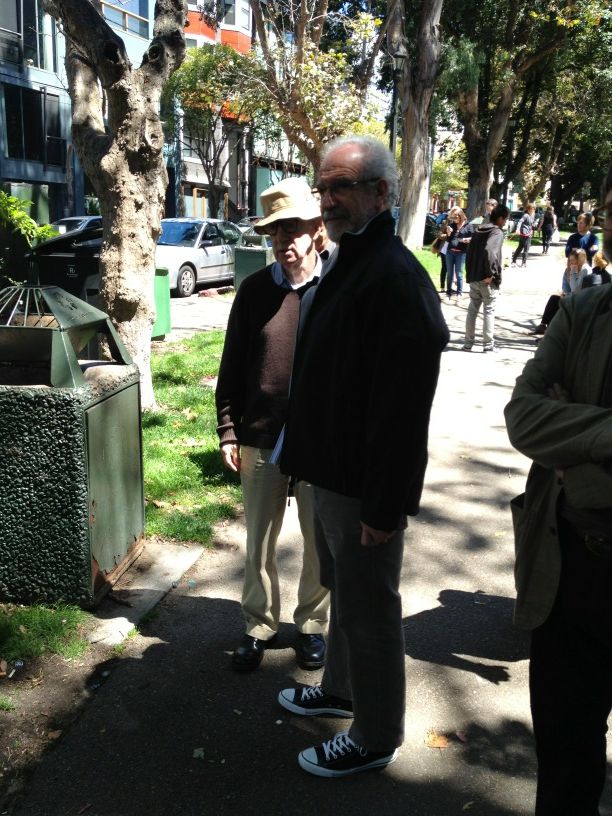 Production has begun on Woody Allen's 2013 film in San Francisco. Some Twitter users have posted up some pics of Woody Allen on set. None of the principal cast have been spotted so far.
Allen and his crew have been filming in various outdoor locations. A car park, a park, a mansion in Pacific Heights and around the Mission area.
Woody Allen was also snapped checking out a Spanish eatery Esperpento in Mission, and had his photo taken with it's owners. (Thanks to Mission Mission).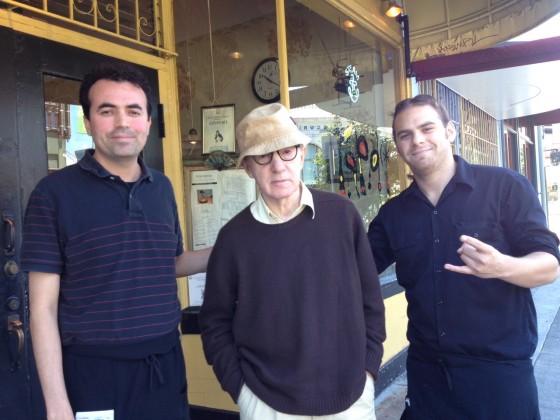 We also know a little bit more about the plot of Woody Allen's 2013 film. According to the San Francicsco Film Commission, it will tell the story of a woman who is down on her luck, and living on a budget after her New York lifestyle falls apart. She learns how to make it, and will, as assume, fall in love. Cate Blanchett and Sally Hawkins are the two woman on the cast list – interesting to speculate who will take the lead role.
The as-yet-untitled 2013 film sees Allen return to filming in US, after spending most of the last decade shooting in Europe. But that sense might not be gone completely, as Allen himself said recently in LA Weekly:
"There are very few places in America that have charm," Allen explains. "San Francisco, it's pretty. It's got a European charm to it."
We have retweeted more shots on our Twitter feed, and will continue to do so. Follow us there for more!
Thanks to the following Twitter users:
jasonbentley
AlexGorbatchev
rnrgeek