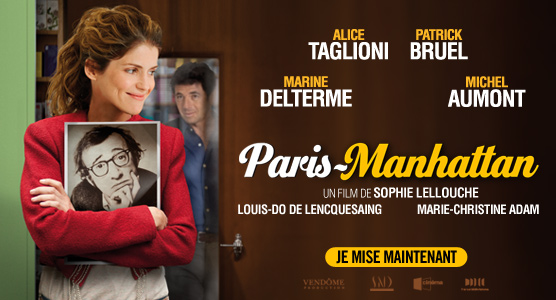 Paris Manhattan is the debut feature film by French writer/director Sophie Lellouche. The film is a homage to Woody Allen, and he even makes an appearance in the film. We have that photo, the trailer, the synopsis and all the dates.
The romantic comedy even managed to get Woody Allen to appear. Collider captured Woody Allen on the set, filming his role last year.
The synopsis:
The eternal wisdom of Woody Allen informs Paris-Manhattan, writer/director Sophie Lellouche's breezy romantic comedy about a young woman whose choices in life and love are shaped by the philosophies of her favourite filmmaker.

Dreamy pharmacist Alice (The Valet's Alice Taglioni) is totally obsessed with the works of Mr. Allen. She surrounds herself with images of him, continually quotes lines from his films and even prescribes her customers DVDs of his movies to help alleviate their ailments; it's little wonder she's still single in her thirties! Alice's increasingly concerned family hopes to cure her fixation by setting her up with a handsome French gentleman (Patrick Bruel), but even he quickly realises that he's no match for the man of her dreams…

Playfully poking fun at France's ongoing love affair with the acclaimed New York auteur, Paris-Manhattan features a slew of the great one-liners, and is a fun and brazenly nostalgic comedy for anyone ever bitten by the Woody bug, or the City of Lights.
Trailer in French below. We will post an English version as soon as we find one. Unless one of our readers would like to translate this for us!
The film opens in France and Belgium this Wednesday 18th July 2012. It will open in Russia on 26th July 2012, and Germany 4th October 2012. Ironically, it will be released in Australia 13th December 2012, where To Rome With Love has no cinema release date.