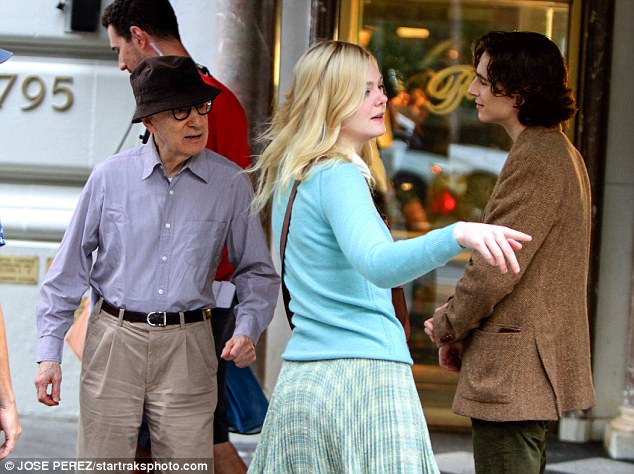 Filming continues into the third week for Woody Allen's 2018 film. It looks like Selena Gomez has finished her scenes for now, with the film moving to Elle Fanning's character, hanging out with Timothée Chalamet. We also see the return of an Allen regular – Conal Fowkes.
Gomez did some shooting on Sunday, back at Minetta St, back in that car. This was the same location for day one, and it seems Allen has decided to reshoot the scenes.
Reports that Gomez is playing and actress, and the scene is a film within a film, seems to be backed up by IMDB listings for several roles for film set related roles – cameraman, young gripper and more. One actor also posted that filming has finished for him, suggesting that those scenes are wrapped.
https://www.instagram.com/p/BZT3akgly3w/
Production moved on to Fanning and Chalamet.
Monday and Tuesday saw filming at the Carlyle Cafe, Allen's regular home on Mondays where he plays jazz. Also on set, dressed in a tux, is Allen's regular piano player, Conal Fowkes.
Great day yesterday shooting a scene for new Woody Allen film @TheCarlyleHotel w/ @ElleFanning & @RealChalamet pic.twitter.com/pu212W5qKi

— Conal Fowkes (@conalfowkes) September 26, 2017
Chalamet and Fanning filmed lots of scenes in the last few days. Fanning went through a variety of outfits and looks – wet hair and grey jacket, a blue formal dress (we assume to match the tuxedo scenes), a preppy light green sweater and sort of urban cowboy look. We have to say – in several shots she looks very Diane Keaton.
Chalamet still has the one jacket.
Locations included walking into Central Park, looks like from the East. Filming also took place at 64th Street and Park Avenue. Also a hotel, or a doorman building, at number 795?
No sign of the other stars – we knew that this was going to be heavily about the three leads.
Filming will continue in New York, and we hear it will continue until the end of October. We will keep up regular updates!