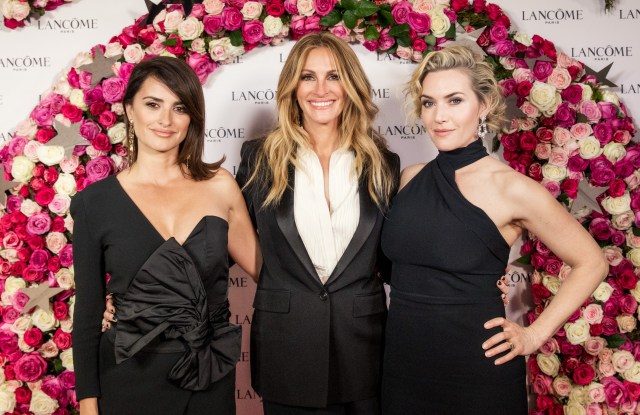 It still seems unusually quiet for Wonder Wheel, the 2017 film written and directed by Woody Allen. We don't have any real details, although we know it is coming this year. In a new interview, star Kate Winslet briefly mentions the film and her experience.
WWD covered the Lancôme Dinner in Monaco, which was attended by Winslet as well as two other Allen alumni – Penelope Cruz (Vicky Cristina Barcelona, To Rome With Love) and Julia Roberts (Everyone Says I Love You). Winslet was asked about her role and had this to say:
It's one of those sort of things that you hope to experience as an actress, but you never really dare yourself to even dream it — because it seems so impossible.
She revealed her character's name.
I play the lead. My character is called Ginny, and she's a waitress in a clam house. That's as much as I think I'm allowed to tell you.
Filming was stressful:
It was probably like the second most stressful part I've ever played, but the experience itself was just utterly incredible.
She also had nice words about the costuming:
I loved it because it was Fifties, but it's poor Fifties. The costumes did not feel like costumes, they really felt like clothes.
This is the most we've heard for the film that is due to hit the US in September. We will no doubt hear a lot more from Winslet as the film moves closer to release. We await to hear more details about the new film.
(Thanks to @circotravesti for the tip)