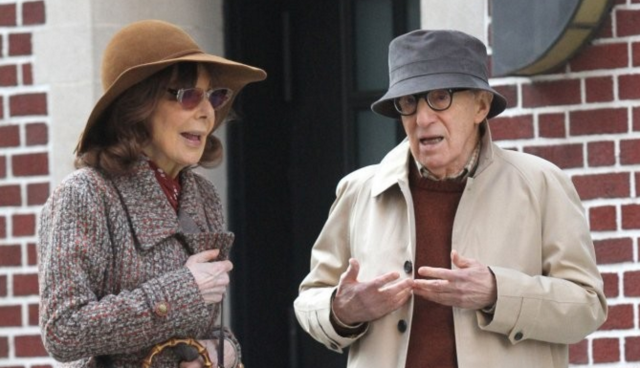 Production is underway for Woody Allen's 2016 Amazon Series. It will be the first series written and directed by Woody Allen, and he is currently shooting in New York. He also stars in the series, and we now have our first look at Allen on set, along with co-star Elaine May.
Not sure what is going on other than the two are walking and talking. May had previously worked with Allen on Broadway, on Relatively Speaking in 2011. She also appeared in the 2000 Allen film Small Time Crooks.
The series is set in the 60s, but the scene and the outfits don't look particularly, or conspicuously 60s-ish.
Some pics were also shared on social media.
Primeiras fotos do set de gravações da nova série de Woody Allen em NY, que tem Miley no elenco principal: pic.twitter.com/7Fr3hL0DU0

— Tudo Miley (@tudomiley) March 8, 2016
Woody Allen ilk dizisinin çekimlerine başladı #Son Dakika https://t.co/bf4P3w3Fjx pic.twitter.com/5MYqwk4Uuk

— Nuweiba Haber (@nuweibahaber) March 8, 2016
We can't make out the location, although it looks a little like the area in lower Manhattan around Beekman Street, where we know the production has spent the last couple of days.
As previously reported, we expect production to move to Westchester. No sign of
Rachel Brosnahan, Miley Cyrus or John Magaro in character yet. We'll be here to report it when it happens.