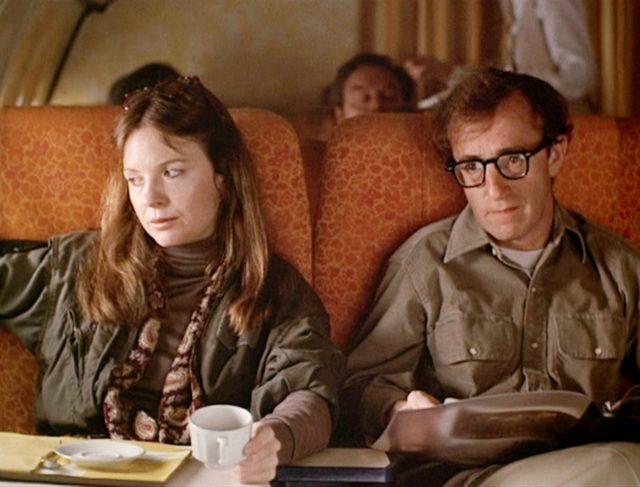 Eggs, sharks and small portions – Annie Hall turns 40 on 20th April 2017. If you're here, you probably know and love this film, a masterwork of cinema. To celebrate, we are publishing part of the Annie Hall chapter in our book series. We've gone through every reference, every location, every second of the film.
What is remarkable about the film is how dense it is. Remarkable that this is but a version of Allen's original vision. We hope this reveals something new about this wonderful film. This probably reads best if you're re-watching the film.
Happy 40th birthday, Annie Hall!
00:00-05:00
United Artists logo then…
Titles. After a couple of films of feeling around, Woody Allen lands on the title card look and design he would keep for the rest of his career. That font is Windsor Light Condensed. Title case always, with names listed alphabetically, grouped by billing.
What is ultimately unusual is the silence. Usually these sequences would be usually underscored by music. Not this time.
Here's Woody Allen. He plays Alvy Singer.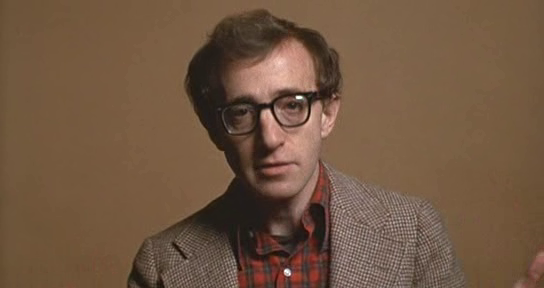 The famous, fourth wall breaking introduction. When asked about it, he has said he wanted to be more direct with his audience, and that was the best way to do it. The original version of this introduction was much longer. Allen rewrote and reshot it. The Groucho Marx joke was added in the reshoot.
The line, by the way, was used by Marx when he resigned from the Friar's Club.
The Hungarian dubbed version of the film replaced Marx with Buster Keaton in the dubbing. They were afraid people might think of Karl Marx.
The lines in this introduction have been quoted, repurposed and parodied many times.
Here's young Alvy, played by Jonathan Munk. It was his only ever role. His brother also played a young Woody Allen in Stardust Memories (1980).
Ally's mother is played by Joan Neuman. This was one of two real credits to her name, the other was playing Woody Allen's mother in Stardust Memories (1980).
The doctor is played by Chris Gample. He had lots of roles in TV – this is his most significant film role. He also appeared in Death Wish (1974).
The house under the roller coaster in Coney Island. The roller coaster was called the Thunderbolt, and ran from 1925 until 1982. The house beneath was in fact the Kensington Hotel. The roller coaster and the house was demolished in 2000.
Allen had originally wanted to use a house near where he really grew up, but they saw the roller-coaster house and used that instead. Allen would use the neighbourhood he grew up in for Radio Days (1987).
In the house, in the back is Alvy's Dad, played by Mordecai Lawner. This was his most significant film role. He appeared in films like Ghostbusters II (1989) and spent decades in theatre.
Young Alvy's imagination – he's running with sailors and dames on the Coney Island Boardwalk, near the Thunderbolt (one block to the east). That clam bar is Steve's Clam Bar and is no longer there.
Of these teachers, Allen said it was quite representative of his education, these strict blue haired old ladies. The blackboard says Dec. 1 – Allen's birthday.
The school is the St Bernard School, 4 East 98th Street, New York.
For almost all the kids in Alvy's class, this was their only role. Alvy's teacher was played by Mary Boylan.
The wooden desks and down to earth vibe of the classroom scenes recall the classroom scenes in Francois Truffaut's The 400 Blows (1959), a film Allen included in his top ten of all time in 2012.
The music playing over this sequence is By The Sleepy Lagoon, performed by Tommy Dorsey and His Orchestra. Written by Eric Coates in 1930, it is known best in Britain as the theme song to the radio program Desert Island Discs.
05:00-10:00
Here's Alvy on The Dick Cavett Show. Allen tells a joke he used in his stand-up days, and you'd be forgiven if you thought this was actual archival footage repurposed.
But no, the sailor on the right is also an actor, Mark Lenard. He had lots of film roles, but is best remembered as Spock's father in many appearances of Star Trek.
Cavett and Allen remain good friends, and Allen appeared on his show many times.
The TV footage was an early precursor to Zelig (1983) with Allen and cinematographer Gordon Willis playing around with the look of film stocks.
This wonderful long shot of a street as two people slowly walk in. Allen just leaves the camera static and the voices you hear walk into the scene. It's over a minute before we get a cut, and Allen's takes get notably longer from here on in.
Here's Alvy with Rob, played by his real life good friend Tony Roberts. This is his first time in a Woody Allen directed film, but had worked with Allen on stage and in other films.
Who's Max? This odd name comes from a real in-joke between Allen and Tony Roberts. One time, Roberts had yelled out 'Woody' in a public area, causing undue attention (apparently). So a nickname was chosen for speaking in public. Oddly though, Max is the nickname for both of them.
The pair are walking down East 66th Street, walking from 3rd to 2nd Ave.
According to cinematographer Gordon Willis, no lights were used in this scene – it is straight natural light.
E "I don't want live in a city where the only cultural advantage is that you can make a right turn on red light."
This movie was so famous, it sets out quite clearly Allen's disdain for Los Angeles.
We move to the now gone Beekman Theatre. It was on the corner of E 66th Street and 2nd Avenue. When it close down, a cinema across the road took its name.
The two guys on the street.
The first guy is played by Bob Maroff, who would appear again in Stardust Memories (1980), as well as films such as Taxi Driver (1976) and Midnight Run (1988).
Rick Petrucelli (2nd guy) would also work with Allen again, in The Purple Rose Of Cairo (1985).
Allen in real life didn't just appear on Johnny Carson, he hosted his show, The Tonight Show, sometimes when Johnny wasn't around.
In the interest of being complete, Robert Redford is an actor whose work will more than likely outlive this Watchers Guide. For context, he was currently at the height of fame after the acclaimed All The President's Men (1976). It was directed by Alan J Pakula, with cinematography from Annie Hall's own Gordon Willis.
Teamsters are a worker's Union in the US. Their rep (at the time) was very working class, uneducated bloke-y types.
And here's Annie Hall. Diane Keaton.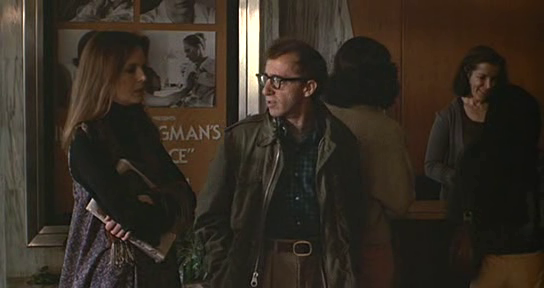 "I'm standing here with the cast of The Godfather…"
Yes Allen, you are. Petrucelli was an extra in The Godfather (1972). And of course, Keaton was in that film too.
Alvy and Annie are off to see Ingmar Bergman's Face To Face. Released in 1976, it was probably actually playing during production and not set up, despite how much Allen loved Bergman.
They go to another theatre. In line, they are in the lobby of the defunct New Yorker theater in the Upper West Side. It was on 2409 Broadway.
10:00-15:00
The man talking in line is Russell Horton. An experienced voice actor, he had many TV roles including The Twilight Zone. This was his most significant screen role.
He's talking about the films of Frederico Fellini, another one of Allen's cinematic heroes. The new Fellini at the time was Fellini's Casanova (1976). Films mentioned loudly are La Strada (1954), Juliet Of The Spirits (1965) and Satyricon (1969).
Then Samuel Beckett. The acclaimed Irish writer famous for, amongst other things, Waiting for Godot.
"Mozart, James Joyce and sodomy…."
There are a lot of references in this film.
Henry James indeed the author of The Turn Of The Screw.
The real Marshall MacLuhan in a classic scene. MacLuhan was a writer and theorist on the media, in many ways a visionary. Allen had initially wanted Frederico Fellini, but he didn't want to travel for just one gag. Luis Buñuel was also asked. McLuhan had to shoot the scene a couple of times – Allen was unhappy with McLuhan's initial performance.
This whole waiting in line is another really long scene. 2 minutes and 49 seconds.
The Sorrow And The Pity (1969). It's indeed a four hour documentary about Nazis, directed by Marcel Ophuls and released in 1969. It tells the story of France, warts and all, during World War Two.
"They had to listen to Maurice Chevalier sing so much…"
Maurice Chevalier was a French entertainer, starring in many films directed by Ernst Lubitsch. He sang a lot in his films.
We can't make out what Annie is reading.
Carol Kane plays Allison Portchnik. This scene was cut down, so we don't see as much of Kane as we should. A shame.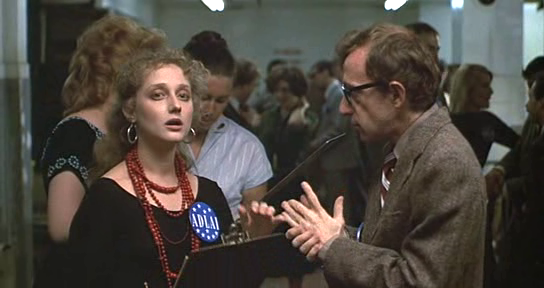 They are at a rally for Adlai Stevenson II, hence the odd letters on their badges (if you don't know the name). He was a presidential candidate twice and, in 1960, seeker the Democratic nomination for a third time. 1960 is where we probably are, so we've jumped back in time quite a bit. Alvy here, looking exactly the same, is mid 20s.
15:00-20:00
A guide to Alvy's stereotyping. Central Park West is a very affluent neighbourhood. Brandeis University is a liberal arts university near Boston. Allen's ex-wife and occasional co-star Louise Lasser attended Brandeis.
Ben Shahn was an artist who worked in the social realism movement, as well as being a socialist. And red diaper refers to kids whose parents were members of the US Communist Party.
Dwight D Eisenhower was president of the United States from 1953. Eight years suggests 1960/1961.
Later we see Allen obsessed by the John F Kennedy assassination, spouting the basis of the conspiracy theories. Lee Harvey Oswald was the shooter (apparently). We are in late 1963. Kennedy was the one who beat Stevenson for his party's nomination.
The Warren Commission, named after Earl Warren, were the body set up to investigate the assassination.
And we are in the Hamptons. This lobster scene was the first day of shooting. The laughter came naturally between the two.
The house is in Napeague Bay on Long Island, off Cranberry Hole Road. That distinctive pier in the background is gone, it seems.
The Plaza Theatre were young Annie met her boyfriend was in Englewood, New Jersey. The Plaza movie theatre was knocked down shortly after production, and was then owned by United Artists, Allen's studio. It is now the Bergen Performing Arts Center, and you can find it at 30 N Van Brunt St.
The film on the marquee is The Misfits (1961), starring Clark Gable, Marilyn Monroe and Montgomery Cliff.
Jerry. The actor. Played by John Glover. Glover had a decades long career as a character actor in films. He is best known as Lionel Luthor in the TV series Smallville for ten years.
Keaton keeps choosing great outfits.
20:00-25:00
We're back in the Hamptons. A very interesting scene – it's just point of view.
Janet Margolin plays Alvy's second wife, Robin. She certainly looks different from Take The Money And Run (1969).
"The Manson family, Dick And Perry…."
Charles Manson and his so called family were not only killers, they symbolised a dark change in American culture in the late 60s.
Dick and Perry are Dick Hickcock and Perry Smith, two other killers whose story was told in Truman Capote's In Cold Blood. We will see more of Capote later.
"Like Oswald in Ghosts…"
Ghosts is a play by Henrik Ibsen, written in 1881. In the play, Oswald Alving, suffers from headaches and fatigue due to syphilis.
The tennis club. This is the now gone Wall Street Racquet Club. It was built on the East River, on the 13th and 14th piers. It was demolished in 2002.
He's the four – Rob, Annie, Alvy and…Janet? She is played by Wendy Girard. She had several guest appearances on TV, but this was her most significant screen role.
25:00-30:00
This amazing scene. That outfit launched a whole movement.
La-dee-dah, la-dee-dah. This was the only Woody Allen line to make the AFI's best movie quotes list in 2005.
A Volkswagen. Annie is driving a 1973 Volkswagen Convertible.
They do head uptown, frantically, along South Street, under the FDR Drive.
They end up and park on E 68th Street between Madison and Park Avenues.
"What did you do, grow up in a Norman Rockwell painting?"
Norman Rockwell was an American painter and illustrator. He gets made fun of a lot for his sort of wide appeal style of a cartoon-y fifties America that is, to say the least, white bread.
"Too busy getting raped by Cossacks…"
Cossacks were the Russian/Ukrainian horse back soldiers used in the Russian civil war in the 19th and early 20th centuries. They were basically psychopaths.
"I'm gonna give him one more year, and then I'm going to Lourdes."
Lourdes is a town in southern France, but 'going to Lourdes' refers to the shrine in Lourdes, at the Sanctuary of Out Lady. Basically, Alvy will go for a miracle.
Allen is having a crack at Sylvia Plath, whilst holding up a copy of Ariel, her second book of poems.
It's apparently 1975.
Another fantastic long scene. Allen is developing a style here. In particular, sticking on one person whilst two people talk, one of them talking off screen.
30:00-35:00
We are out on the balcony, helping us to identify the apartment. It's at 36 E 68th Street, just a little way down from where Annie and Alvy parked earlier.
There is so much invention in this film, from the fourth wall breaking, our main characters stepping through their past, kids telling their own futures. But our favourite is this subtitles scene.
There has been some DVDs where the entire gag was left on the subtitles track, rendering this whole scene meaningless.
And we move to a nightclub. It was called the Grand Finale on West 70th Street, and long gone.
Diane Keaton did do some nightclub singing earlier in her career. Her performance in this film lead to interest in an album. Some tracks were apparently recorded but it never saw the light of day.
She is singing It Had To Be You, written by Isham Jones and Gus Kahn in 1924. It has been used many times in films, including in Casablanca (1942). That other great New York romantic comedy When Harry Met Sally (1989) used it as a theme. So this is probably the best romantic comedy song of all time.
And we're off down Greenwich Avenue, in the Greenwich Village part of lower Manhattan. It's between Sixth Avenue and 10th Street. They stop and have their first kiss in front of 9 Greenwich Village.
They move to a diner. The fantastic blog Scouting NY was a great resource for some of these locations. They make a very good point that the fact no diner is out hawking itself as the 'Diner from Annie Hall' means it is probably not around anymore.
35:00-40:00
"As Balzac said…there goes another novel."
Honore de Balzac was a French novelist and playwright, who made his name in the early 1800s. Part of the realism movement, we're pretty certain he didn't actually say the line above. Evoking Balzac just sounds intellectual.
Speaking of…books! Alvy buys two for Annie. They are:
The Denial Of Death by Ernest Becker, published in 1973. It won the Pulitzer Prize for General Non-Fiction in 1974′ two months after the author died. It discusses quite large, and quite interesting philosophical issues about how we live and meaning in life.
Death And Western Thought by Jacques Choron, published in 1973. It is a collection of writings and thoughts about death by other authors.
Annie buys The Cat Book. Not sure who wrote it. Googling was impossible.
Allen has singled out Becker's book in interviews, but here he probably just thought the titles would be funny.
The bookstore is now gone. It was the branch of Doubleday on Fifth Avenue, between 56th and 57th streets.
And we're at Central Park Zoo.
The winner of the Truman Capote lookalike contest is… Truman Capote. Brilliant author, brilliant character. They don't make them like him anymore.
Alvy tells Annie how he feels at the end of Pier 17 in lower east Manhattan, near the South Street Seaport. In the background is the Brooklyn Bridge.
40:00-45:00
Back in the Hamptons, driving along Dune Road on the south shore.
As they drive we hear Mozart – Symphony 41 in C major, also known as 'Jupiter'.
"Just don't take any course where they make you read Beowulf…"
Beowulf is an epic poem from somewhere around the 8th century. It's over 3000 lines long and in old English.
Billie Holiday was a wonderful jazz singer from the 30s and 40s. She has dozens of recordings you have to hear. But her version of Strange Fruit is one of the most important recordings of all time.
We've gone back in time. The comic entertainer is played by Johnny Haymer. This is Haymers most significant film role, though he had lots of roles on TV, including a recurring role on MASH. The comic's agent is played by Bernie Styles.
This scene echoes Allen's life and trajectory. He wrote jokes for many others before taking his first tentative steps at being a performer.
The office is looking over a Canadian Club sign, which places us in Times Square.
We cut to the University of Wisconsin. But is it really?
In real life Allen did go, and dropped out of, New York University.
Ma Jong Tiles are the pieces used in the game of Ma Jong. It's kind of like Chinese bridge but played with blocks.
So the geography makes sense, story wise. Alvy has a show in Wisconsin, so they go to Annie's home in Chippewa Falls which is also in Wisconsin.
45:00-50:00
Annie's family home location is at 188 Lydecker St, Englewood, New Jersey.
Colleen Dewhurst plays Annie's mother.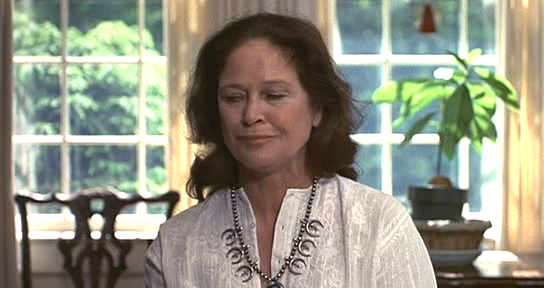 Donald Symington plays Annie's father. He had a decades long career in TV, and would work with Allen again on Mighty Aphrodite (1995). He also appeared in The Front (1976) that starred Allen, and came out a year before this film.
Helen Ludlam plays Annie's grandmother – Grammy Hall. This was her most significant role.
Christopher Walken plays Duane Hall, Annie's brother. It was his first big role.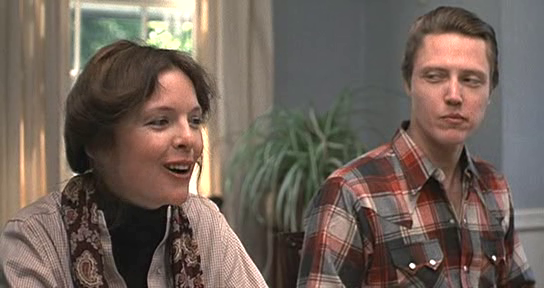 Alvy's aunt is played by Ruth Volner.
His uncle is played by Martin Rosenblatt. Rosenblatt would return for Radio Days (1987) and Oedipus Wrecks (1989).
We go into Duane's room. This scene was almost cut, but was put back in at the last minute. This whole scene with Annie's family was originally longer.
We cut to Annie and Alvy fighting. They are walking on the north edge of Washington Square Park, New York.
"What does he call you? Bathsheba?"
Bathsheba was David's wife in the Bible. There was some sexiness involved.
The whole walk was another long take.
"Frank Sinatra is holding this pillow across my face…"
Frank Sinatra. Singer. Actor. Gangster. He would come into Allen's life in a weird way when Mia Farrow comes into the picture.
50:00-55:00
Annie gets into a cab on West 4th Street, between MacDougal and Sixth Avenue, just by Washington Square Park. Her cab takes her back towards the park.
Alvy then talks to strangers. The older woman is played by Loretta Tupper. She would work with Allen again in The Purple Rose Of Cairo (1985).
The older man is played by Lou Picetti. He also appeared in Sleeper (1973).
The blonde woman with no ideas is Shelley Hack. She would find fame when she became one of Charlie's Angels.
This animated sequence was not created by Stuart Hample, the man behind Inside Woody Allen, the Allen comic strip. But it is definitely a nod, with Alvy here pretty much that cartoon Allen, dressed up.
If it's not clear, this is a play on the 1937 animated film Snow White And The Seven Dwarfs. Still so iconic to this day. Allen has said that this was one of the first films he fell in love with as a kid.
Shelley Duvall plays Pam. Another character whose story was cut down. A reporter for Rolling Stone magazine who were probably at their height around this time.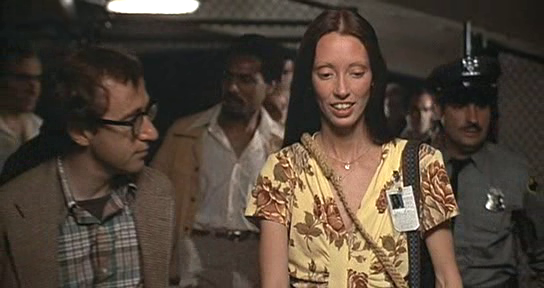 They are at a concert for the Maharashi, who was a spiritual guru, famously for The Beatles. The Indian influence on the Beatles music started here. This would place us in the early 70s.
(The Beatles song Dear Prudence is about Prudence Farrow, Mia's sister, and the Maharashi.)
Pam is quoting Just Like A Woman, from Bob Dylan's 1967 album Blonde On Blonde.
55:00-60:00
Other rock references, many about The Rolling Stones. Altamont was a disastrous 1969 free concert put on by the Stones where an audience member was killed. It is captured in the DA Pennebaker documentary Gimme Shelter (1970).
Alice Cooper and Allen actually met during the making of Sleeper (1973), although he did not appear in the film. He would see Allen around at Elaine's, and he has said if he was in an Allen film he'd be bragging about it. Allen would make another Alice Cooper joke in Celebrity (1998).
"Sex with you is really a Kafka-sequence…"
Franz Kafka wrote very surreal, very paranoid stories. I'm not sure this is a complement. Allen would pay greater homage to Kafka in Shadows And Fog (1991).
"I think it may have been Leopold and Loeb."
Nathan Leopold and Richard Loeb were two wealthy university students who thought themselves above the law, and committed kidnapping and murder. The deeply philosophically motivated killing must have interested Allen. Alfred Hitchcock based Rope (1948) on the pair. Allen is probably saying that a few more orgasms might have stopped the killers?
When Alvy asks for a magazine, he is standing in front of the pictures taken on their lobster cooking day. It in a film with so much great little detail, this is probably the best one.
The National Review is a conservative political magazine. It was founded by William F Buckley.
There's photos of Duane next to the bookshelf.
For completists and non Americans, a Buick is a brand of car, usually very big and powerful.
From Alvy's arrival to the time he walks back into the bathroom with a tennis racquet is a long take. 2 minutes and 22 seconds.
60:00-65:00
And we're on the road. The three travel down the Belt Parkway/Leif Ericson Drive down to Coney Island.
Not sure where this wonderful house is. The decorations are so great.
By A Sleepy Lagoon plays again.
Hy Anzell plays Joey Nichols (or Uncle Five Cents). He appeared in Bananas (1971) and would return for one more Allen film, Deconstructing Harry (1997).
Aunt Tessie is played by Rashel Novikoff, in her most significant screen role.
Alvy and Annie walk back to their flat, which seems to be 131 E 70th Street.
Annie sings Seems Like Old Times. In a film about nostalgia, memories and leaving things behind, it is a very appropriate song.  It was written by Carmen Lombardo and John Jacob Loeb in 1945.
65:00-70:00
"I'm Tony Lacey…"
No you're not! You are 12 time Grammy Award winner Paul Simon. Simon was not having a great time in music at the time and was looking into film. His character, Tony Lacey, also had his role cut down significantly.
With Lacey are hangers-on. Petronia Johnson in the bandana. The other is Shaun Casey, a model. They are referred to by their real names.
Allen asked Simon to make sure to use the word 'mellow' so he could make his joke.
What Alvy really wants to do is watch more of The Sorrow And The Pity.
This famous split screen therapy session was not a split screen scene at all. It is two sets next to eachother!
Humphrey Davis plays Alvy's psychiatrist. You can only hear her, but Vanessa Radburn plays Annie's.
70:00-75:00
The sneezing cocaine scene was an accident on set. It was so funny that Allen wrote it in. It started life as a bridging scene to say the characters are going to California.
The mustachioed friend with the coke is John Doumanian. He worked in the music industry and was a good friend of Allen's. His wife, Jean Doumanian, would play a big role in Allen's career in the 90s. John and Allen remain friends, visiting Allen on set in 2016.
We Wish You A Merry Christmas plays.
E Juxtaposed against blue skies and palm trees, it's probably the opposite of what is great about Christmas for New Yorkers. Oh, California. 
Rob, Annie and Alvy are driving down Foothill Road, Beverly Hills.
Rob is driving a 1972 Masarati Ghibli.
"It's that they don't throw their garbage away. They make it into television shows."
They drive past several Los Angeles places. We don't know the building windowed building, but the hot dog stand is the Tail o' the Pup Hot Dog stand, now gone, but it was on 311 North La Cienega Boulevard.
Then Fatburger, also on La Cienega Boulevard, corner San Vicente Boulevard.
The Art Deco theater marquee is the Gilmore Theatre. It was on W 3rd Street near S Fairfax Avenue. It was knocked down shortly after this film was released.
They are showing two real b-grade late night horror films in House Of Exorcism (1975) and Messiah Of Evil (1973). But it probably speaks more to Alvy's state of mind.
Watching back Rob's TV show. On screen is Tracey Walter, the first ever role by the popular character actor who appeared in films such as Batman (1989), City Slickers (1991), Philadelphia (1993), Matilda (1996) and over a hundred more.
Also on screen is Beverly D'Angelo.  She is best known for the National Lampoon's Vacation films, but she had more serious roles such as Coal Miner's Daughter (1980) and American History X (1998). This is also her first role.
The doctor is played by Vince O'Brien. He had a varied career in musicals, on TV soaps, advertisements (he was the Shell Answer Man) and great films like Quiz Show (1994).
75:00-80:00
"My feet hasn't touched pavement since we reached Los Angeles."
There's so many California jokes here I can't list them all. Not sure the location of the house.
"They just got back from Masters and Johnson…"
William Masters and Virginia Johnson were famous researchers, studying human sex. Allen made jokes about them in Everything You Always Wanted To Know About Sex (1972), and a heavily fictionalised version of the pair star in the TV series Masters Of Sex.
"Didn't we meet at EST?"
A reference to Erhard Seminars Training, a very hippie-ish weekend getaway course that was vogue at the time.
The woman in white is is Laurie Bird. She is best remembered for playing The Girl in Two Lane Blacktop (1971). She was at this time the partner of Art Garfunkel, Paul Simon's former bandmate. This was her last role, she committed suicide in 1979.
Uri Geller was a mentalist, very famous for bending spoons with just his mind. Or some crap. Not sure why people wear white around him.
"You know who the original owners were? Nelson Eddy then Legs Diamond…"
Nelson Eddy was a singer and actor who appeared in many musicals in the 30s and 40s.
Legs Diamond was a gangster in the bootleg era. He lived flamboyantly, despite the many assassination attempts on his life.
Alvy's response to the next owner is Trigger. Trigger was Roy Rogers horse in the 40s and 50s, starring in many westerns.
Finally, Charlie Chaplin's un-American thing. As Chaplin's film popularity fell, he became more politically active. On a trip to London, to showcase his 1951 film Limelight, the FBI and the US government simply revoked his re-entry visa. Rather than challenge the decision, he decided to cut ties with the United States altogether. He sold all his US assets, perhaps to Tony Lacey.
The film they just saw is The Grand Illusion (1937), directed by Jean Renoir. Allen included it in his top ten films of all time in 2012.
William Callaway is the party guest who enjoys the film when high. He had a long career in voice acting, from Smurfs, Scooby Doo, G.I. Joe and more.
Jeff Goldblum has forgotten his mantra. This was well before he became a household name for films like Jurassic Park (1993), Independence Day (1996) and The Grand Budapest Hotel (2014).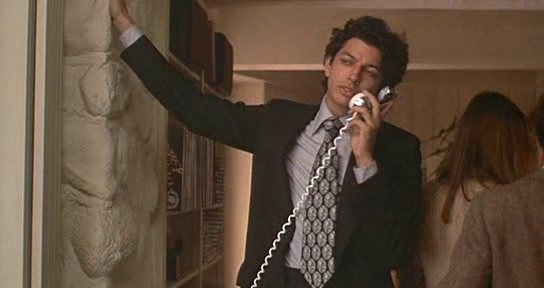 Although they've never worked again on screen, Goldblum and Allen both perform at the Carlyle as jazz musicians, with Goldblum having sat in with Woody's band. Goldblum named his dog Woody Allen as a tribute.
This very, very famous dead shark quote.
The couple split their things. Catcher In the Rye is beloved only novel by J.D. Salinger. Allen named this in his top five books of all time in 2011.
80:00-85:00
Alvy is missing Annie as he walks out of the The Paris Theatre – 4 W 58th St, New York.
The theatre is playing Children Of Paradise (1945), a French film directed by Marcel Carne and widely considered to be a masterpiece.
"Harvard makes mistakes too. Kissinger taught there…"
Henry Kissinger was a favourite target of Allen's in the early years. He was Secretary of State under Richard Nixon, and deeply involved in the Vietnam War. A highly controversial figure, many activists has seeked to prosecute him for war crimes.
"Jealous. Just a little. Like Medea…"
In Greek Mythology, Medea was wife of Jason, who left her. In response, she killed Jason's new wife, and the two sons she had with Jason. So, just a little.
Paula Trueman is the lady who asks Alvy about seeing others. She appears in lots of great film, like The Stepford Wives (1975), Moonstruck (1987), Dirty Dancing (1987) and more. She would appear in another Allen film – Zelig (1983).
The smoking girl Alvy takes to the beach house is named Dorrie in the script, although many of her scenes are cut. She is played by Christine Jones. Allen had originally offered the role to Sigourney Weaver. Weaver would have a much smaller, non speaking role, later. Allen would use Dorrie as a name in Stardust Memories (1980).
Alvy heads back to the South Street Seaport, pier 15. We know he's sad about Annie but it looks so nice.
Alvy heads to LA, and tells Annie he's at Los Angeles airport. We believe him, but we don't know where exactly, and that phone booth is likely a prop.
He then skids along Sunset Boulevard to a cafe that was called The Source on 8301 Sunset Boulevard, Los Angeles.
A lot more California jokes.
Death In Venice is a novella written by Thomas Mann in 1912. Amongst it's themes was a look at the city of Venice and its decadence.
85:00-90:00
"Grammys are tonight…"
There are so many clever details in this film. But the twist of the word Grammy – something endearing from Annie to something commercial and crass in the awards – is another great one.
This film won its share of awards, but Allen didn't give it another thought.
The cop is played by John Dennis Johnston. He appeared in films such as Close Encounters of the Third Kind (1977) and lots of TV series.
Rob finds Alvy at the Old Venice Police Station at 685 Venice Boulevard, Los Angeles.
Tony Roberts had done Shakespeare In The Park.
Roberts had bought the ridiculous visor jacket earlier in the day. He surprised Allen with it, but Allen improvised his line about plutonium on the spot. Roberts line about alpha rays was also an ad-lib.
The two actors in the play rehearsal are Robin Mary Paris, in her most significant role, and Charles Levin, who had lots of significant TV work and would also appear in Manhattan (1979).
"What do you want? It was my first play…"
Allen of course started writing plays before films.
90:00-95:00
The final scenes, we hear Diane Keaton sing Seems Like Old Times.
Alvy and his date bumps into Annie and her partner outside the Thalia Theatre, where The Sorrow And The Pity is playing. It's on 2537 Broadway, Manhattan.
That is Sigourney Weaver as Allen's date. The scene was, according to Rosenblum, a real downer, and was reduced to just the one shot. It was Weaver's first film role, two years before her star turn in Alien (1981).
There is the wonderful cinematic montage that Allen put in at the last minute. For his cowriter Marshall Brickman, it saved the film.
Alvy and Annie have one last lunch at a place on the corner of 63rd and Columbus, across from Lincoln Center.
Allen apparently came up with the egg joke in a cab on the way to editing. What a finish.
Note there is no music in the credits either.
That's our guide! We hope you liked it, and if you want to see this for other Allen films, check out our book series.