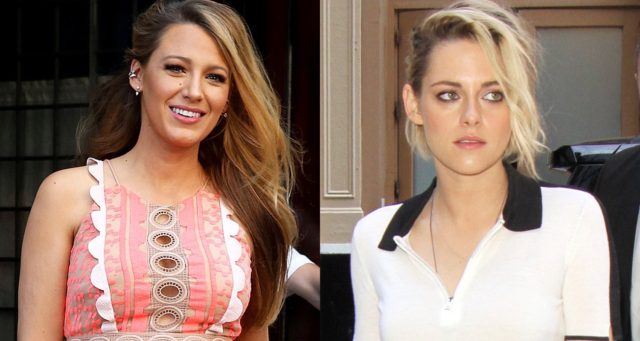 With just a few days to go, publicity is really ramping up for Café Society, the new film written and directed by Woody Allen. In New York this week are Blake Lively, Parker Posey and Kristen Stewart, all doing lots of interviews in the last 24 hours. Even Jesse Eisenberg filmed a few words from London.
Kristen Stewart with Peter Travers
Some business about Prime Day with Lively, Posey and Stewart,
Interview from the the press junket today. #CafeSociety pic.twitter.com/qvsBcyFlI2

— Blake Lively Fan (@blakelivelyf) July 13, 2016
Eisenberg on Good Morning America
Kristen Stewart on Fallon
Lively on Live! With Kelly
(Is that Fred Savage? He's appared n Allen's stage work before)
Lively spoke to USA Today about her audition.
I didn't know anything about the movie. It didn't matter. It was being part of a film with an iconic filmmaker and somebody that writes complicated women.
Stewart told Metro about her favourite Allen films.
I haven't seen all of his movies — not even in the least. The ones I really like are, obviously, "Annie Hall." My favorite is "Vicky Cristina Barcelona." I love that movie so much it's crazy.
Stewart on her first day with Yahoo. She calls Allen "little dude". Priceless.
I thought, "He hates me! He absolutely is regretting his decision." [Laughs] But, then, I was like, "I'm going to prove to this little dude that I can absolutely do this! Maybe I don't have the demeanor that my character does, but I'll do it when you f***ing call 'Action.'" That first day, he would come up to me and say things like, "You look terrible. You're supposed to be pretty." But it's not personal, and he's not trying to offend. If anything, he knows that it's funny. He's not the type of person who likes actors who are totally up their own asses and have massive egos. I feel like it was almost a tool for him to go, "If they can take it, they're cool. And if they can't, then f*** it."
Posey talked to Out.com
I love that time period. In Hollywood, there was a strength and an elegance among women, a feminine mystique that was more about etiquette than materialism. My grandmother had it, and playing Rad, I thought a lot about her and about women who didn't feel they had to imitate men to be powerful.
Gracie Posey, Parker's dog, also turned up.
https://www.instagram.com/p/BHxXhRDggUg/
Parker Posey's sweet dog, Gracie, sat on Blake Lively's lap until she got up to widdle on the rug. #unusablefootage pic.twitter.com/Z41cC2MfpH

— Keith Simanton (@IMDbKeith) July 12, 2016
https://twitter.com/parkerposey/status/752963731148136453
Lots of pics from Just Jared
Looks like Allen himself is sitting this one out. We'll add more as it happens. Meanwhile – red carpet is tonight in New York.