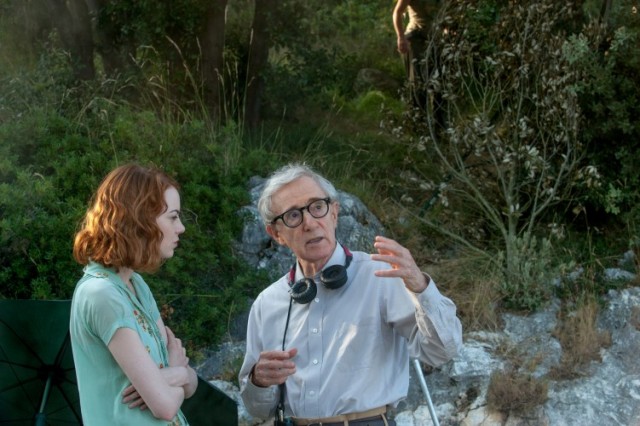 Magic In the Moonlight, the new film written and directed by Woody Allen, has been in theatres for four weeks now. It was a big week of expansion, and the buggest box office haul for the film yet.
'Magic…' has now earned $6,148,685 at the box office worldwide. The biggest part of that is the US, taking $5.5m of the earnings. It was the 14th highest earning film in the US last week.
It's tracking strong in the US in its first month. It's already Allen's 30th highest earning film in the US, taking over Whatever Works ($5.3m) and trailing behind Mighty Aphrodite ($6.5m).
This week is a big week internationally with many countries set to have the film open – South Korea, Netherlands, Poland, Sweden, Australia, Brazil, Greece, New Zealand, Cyprus and Finland.
There were also a couple of new images of Woody Allen directing on set. The images are above and below.
There was a new Jacki Weaver interview in The Australian where she talked about Allen.
Weaver admits her role as a wealthy dowager, Grace, who is seduced, along with so many others, by a supposed mystic (Emma Stone) was a double delight.

"It was extraordinary, it was absolute bliss," she says. "We were shooting in these remarkable locations and I've been nuts about (Allen) since I was a kid."

Weaver concedes as a youngster she used to plagiarise Allen's stand-up routines to perform in front of her family.
On how she got the role and not getting a fill script.
It happened quickly. She was called to New York to meet Allen in his office and the conversation started as briskly as "How do you do? I really want you to be in my next film."

"I was pretty flabbergasted," she says, recalling being sent into the next room to read a number of her scenes just to ensure she liked it. No audition and no complete script, she adds, "which is unusual but it didn't bother me. It makes sense. Why would I need to know what else is going on beyond my character?

"But because I'm so nosy, so curious, Colin Firth lent me his full script anyway," she says, with a laugh.
We'll be back next week with another update.