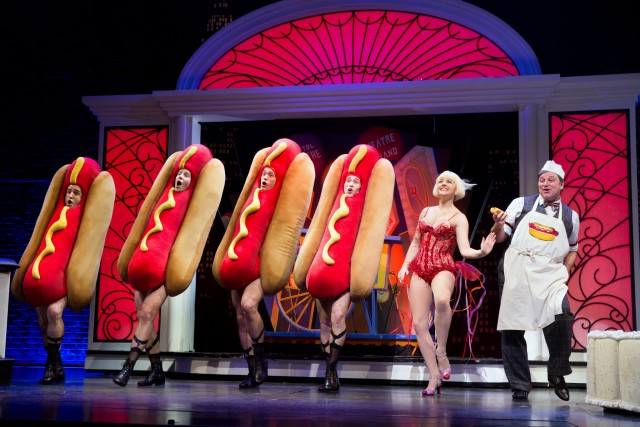 The Bullets Over Broadway Musical has opened, and that means the reviews are flooding in. Overall, the reviews have been mainly positive, with some very enthusiastic responses. There seems to be universal praise of Nick Cordero, but some have taken issue with the choice of music, and that troublesome finale. We also have more new pics.
The Huffington Post gave it a big thumbs up.
Bullets ripples with vintage Allen dialogue, and [Zach] Braff is an ideal Allen hero, a principled artist whose altruism is tempered by pragmatism. One can almost hear Allen as Braff delivers David's lines. As when David explains to Ellen's frequent hints at wedlock: "Marriage is a very serious decision. Like suicide." Or when he rationalizes the changes in his play: "Life is not perfect. And it's expensive." Or when he finds himself torn between Ellen and Helen: "Is it possible to love two women at the same time? Not when one of them finds out."

If there is a checklist for a Broadway musical hit, it would probably include funny lines, fascinating characters, fabulous dancing and songs you'll hum leaving the theater. With Bullets Over Broadway, Allen and [Susan] Stroman score on every point.
USA Today called it a "shameless good time"
Zach Braff brings the right neurotic charm to the role of David Shayne, the scribe who is persuaded to forsake his high-minded ideals and let gangster Nick Valenti (an ideally cast Vincent Pastore) produce his play. But Braff is not — by appearances, at least — the hardest-working member of this company. In an early scene, he is upstaged by one Heléne Yorke, playing Nick's girl, Olive.

Stroman includes deft smaller touches as well — watch [Brooks] Ashmanskas' Warner silently circle the catering table as his colleagues rehearse — and the overstatement never grates, because it is executed with such vibrant style and without any of the self-consciousness or snark that have marred other stabs at musical comedy in recent years.

In fact, while things may not end happily for a few of its characters, Bullets offers as much sheer, shameless fun as any show you'll see this season.
Wall Street Journal loved it.
How good can a jukebox musical be? As good as "Bullets Over Broadway," Woody Allen's new stage version of his 1994 film, directed and choreographed by Susan Stroman ("The Producers"). The book is funny, the staging inventive, the cast outstanding, the sets and costumes satisfyingly slick. All that's missing is a purpose-written score, in place of which we get period-true arrangements of pop songs of the 1920s and '30s. Does that matter? It did to me—a lot—but I doubt that many other people will boggle over the absence of original songs from "Bullets Over Broadway." Except for a flabby finale, it has the sweet scent of a box-office smash.
NPR also loved it.
Everything works here: The dances are inspired, the costumes rock, the sets are sharp and the use of slightly tweaked existing classic jazz and blues standards as the soundtrack is inspired. Even the casting, which initially seemed odd, ends up pretty spot-on, with a mixture of newbies and veterans.

When the critical reviews of the fictional play come out at the end of the show, the consensus must be the same about this fun, beautiful musical: "A work of art of the highest caliber."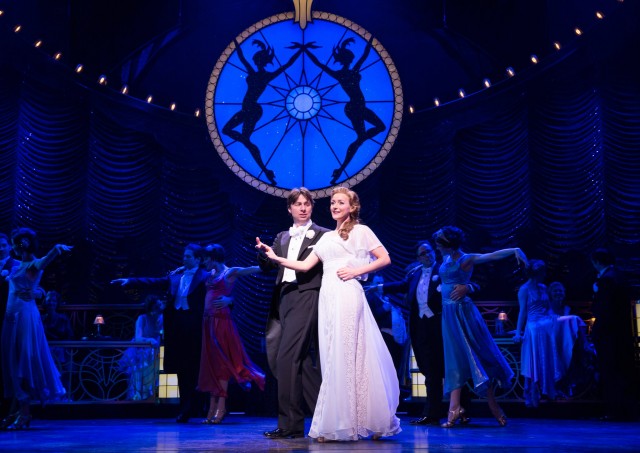 NBC loved it as well.
Nick Cordero, an actor who played "The Toxic Avenger" Off-Broadway, and whose last Rialto credit was as a replacement in "Rock of Ages," is having a breakout moment as mob enforcer Cheech, the tap-dancing thug who has a thing or two to teach David about constructing a drama (for those of you keeping score at home, that's "the Chazz Palminteri role"). His "Nobody's Biz-ness" is yet another showstopper.

What's important here is this: Stroman's brand of showmanship and Allen's unparalleled wit go together, in the end, just like a hot dog and a roll.
New York Post loved it.
Woody Allen's adaptation of his 1994 movie checks all the boxes: zingers and puns, slapstick and visual gags, leggy showgirls and tap-dancing chorus boys, hammy stars and lavish set pieces.

This is defiantly old-fashioned entertainment, and boy does it hit the spot!
The Guardian gave it four stars out of five.
[Nick] Cordero is the play's find – he's a genuine triple threat. The TV and film stars are in generally better voice than expected, and the musical theatre pros ([Marin] Mazzie, Ashmanskas, Karen Ziemba) prevail, though their turns are somewhat self-congratulatory.

Stroman's strength is storytelling via choreography, and that's often the case here, particularly Ashmanskas's lumbering jetés and Yorke's brassy thrusts. The songs are less successfully integrated and rarely deepen or enhance the narrative and emotional arcs. The closing strains of 'Yes, We Have No Bananas' is a particularly baffling choice.
Entertainment Weekly gave it an A-.
This is not your usual jukebox musical. The songs, all '20s-era gems that predate the word jukebox, are cleverly deployed (and lyrically updated by Glen Kelly) to advance the plot.

Yes, it's a tad loopy. But Bullets captures the screwball spirit of the time period while remaining entirely fresh and new
Chicago Tribune also wanted original songs, but were also warm
There are, for sure, times when "Bullets" is stymied by its lack of an original score, although the lyrics have been thoroughly subjugated to its comedic purpose, wittily so. The use of standards was not such a problem on film, since part of Allen's cinematic gestalt was to forge a gauzy comic tribute to a golden age of Broadway. But when you translate Allen and Douglas McGrath's backstage comedy to the Main Stem, somehow the Great American Songbook starts to feel a bit like a cop-out.

Buoyed by its strong women, "Bullets" occupies a classic musical-comedy niche you can't find elsewhere on Broadway this season.
Variety was warmly postive
Whenever he's knocking off gangsters from a rival mob and dumping them into the Gowanus Canal, Cordero croons a very pretty rendition of Hoagy Carmichael's immortal "Up a Lazy River." (Nice song placement, that.) But Cheech and his fellow goons literally stop the show with a simply sensational tap-dance number by Stroman, to "Tain't Nobody's Biz-ness If I Do," which shows off the director-choreographer's vivacious technical wit at its inventive best.

This is a dancing show, so it's no surprise that the book scenes take a backseat to the dance numbers. But even a few of the big production numbers fall flat — and none flatter than "The Hot Dog Song," a naughty novelty number in which Olive shows off her burlesque skills. But those dancing gangsters can do no wrong. And those terrific hoofers who play the flappers and the hoochie-coochie girls and the nightclub chorines always manage to land on their feet.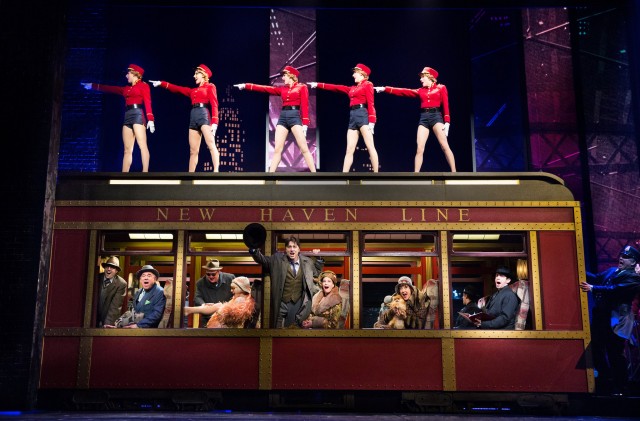 The NY Times reckons it is too over-the-top. Their review featured some great new images.
The experience of watching the film was like being tickled, gently but steadily, into a state of mounting hysteria. From the get-go, the musical version, which stars a credible Zach Braff (doing Mr. Allen) and a misused Marin Mazzie (doing Norma Desmond), feels more like being head-butted by linebackers. Make that linebackers in blinding sequins.

It's not that Cheech's lines are any more outrageous than a lot of what the other cast members have to say. But unlike most of those others, Mr. Cordero never pushes for effect, even when he's leading a homicidal dance number to " 'Tain't Nobody's Biz-ness if I Do." And somehow, this dopey, mass-murdering thug and the actor playing him stand out as being far more endearingly earnest than anybody else.
The LA Times was more critical
Something's slightly out of whack with the performances. There's some strong singing (Mazzie and Ziemba are vocal standouts), some expert clowning (Ashmanskas really knows how to chomp on a drumstick while selling a musical number) and some solid acting (Braff's characterization has a few extra notes of authenticity), but only in Cordero's performance do all three strengths triumphantly merge.

Not all of the ditties, refashioned here and there with new lyrics by Kelly, serve the storytelling. And why the inclusion of "Yes! We Have No Bananas" in the grand finale? It's a minor point, but it indicates how the authors of a show with such enormous potential have made compromises that Cheech would never accept.
Hollywood Reporter didn't like the music, or the show really.
One handicap – though not necessarily the fatal flaw – is the absence of an original score. Marvin Hamlisch and lyricist Craig Carnelia more than a decade ago began composing songs for a Bullets musical until that project was abandoned. Instead, Allen has gone with existing period music, collecting both standards and obscure ditties from the 1920s to flesh out his screwball backstage comedy about a struggling playwright whose big break gets him entangled with gangsters in Prohibition-era New York.

It might be amusing to see "Big Pussy" from The Sopranos break, apropos of nothing, into "Yes! We Have No Bananas," providing an illogically effervescent concluding note that would have been right at home on a Ziegfeld revue. But that song's inclusion is symptomatic of the fragile conception here. It's not just that it makes no narrative or tonal sense for ruthless mobster-turned-Broadway investor Nick Valenti (Vincent Pastore) suddenly to reveal his whimsical side. It's that the song is employed strictly out of the mechanical necessity for a big closing number.
Overall, pretty good reviews, with the negative ones all hitting the same note – that unoriginal score. Yet, those songs are all so obscure (bar one or two)…so who knows.
We also have a new TV Commercial for 'Bullets Over Broadway', really playing up the critical notices, and using footage from the production itself.