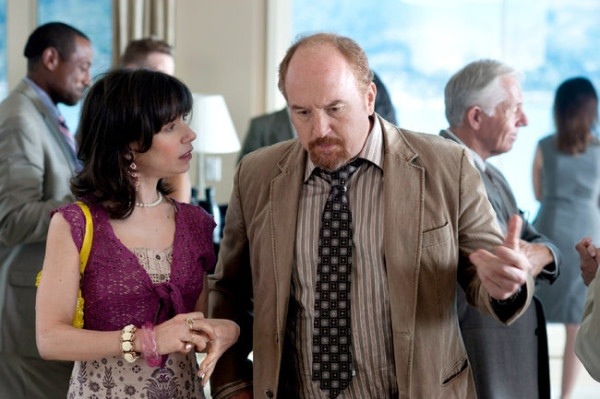 Louis CK features in the latest image from Blue Jasmine, released by Sony Pictures Classics. It is our sixth look at the upcoming film from Woody Allen, which is set for a limited US release on 26th July 2013.
Louis CK appears in the photo alongside Sally Hawkins. Both appear to be at the same party scene in San Francisco where we have seen other shots before. We love Louis CK, who shares with Allen the role of being a comic auteur – CK writes, directs and even edits his TV series Louie.
Louis CK was also featured in a fantastic and in depth piece with the New York Times, promoting his new HBO special 'Oh My God'.
Allen is discussed twice. First, surprisingly, that CK approached Allen, as well as other famous directors for a part that eventually went to David Lynch.
Did you also have an immediate vision of the Jack Dall character, who trains you for your audition?

To me, it was Ben Gazzara. So Vernon Googles Ben Gazzara while we're talking. He died an hour before he Googled it. I think it's possible the minute I said, "I think this is Ben Gazzara," he dropped dead. I sent it to Jerry Lewis. We got a phone call from his personal secretary saying, "Jerry is not interested at this time." We reached out to Woody Allen, who said, "I can't contribute to this right now." I got a really nice e-mail from Al Pacino. Martin Scorsese said: [Scorsese voice] "Louie's terrific, I enjoy the program. I can't be any part of this right now." What I learned is that the level I'm at now I get polite nos. It used to just be nothing but silence.
He also covered in more depth his role and relationship with Allen, and we have confirmation that the part he missed out on went to Andrew Dice Clay, and perhaps 'Blue Jasmine' is not as serious as everyone makes out.
So how did Woody Allen approach you?

It just came out of nowhere. I got this e-mail: Woody Allen wants you to come in for something. I've been waiting for that e-mail my whole life. I'm not going to pretend I'm above that. I went into his office and read for a part that Andrew Dice Clay ended up getting. Woody said: "I know you can act. I just don't know if this is the kind of guy that you are. This is a very mean guy, and you're not a mean guy."

And I read it, and I was like, yeah, I'm not getting the part. I can be working class. I can't hit my wife. So I'll talk the way I would say these things and I won't get the part, but I'll leave with my head up high. And that's precisely what happened. But I was very emotional, because I had just met Woody and he was very kind to me.

Two weeks later I was told, "His assistant is bringing something to your apartment." It was some pages from the script and a letter from him. And it said: "You were too sweet a guy to do the other one, but this is one you could do. If you don't want to do this, we'll do something, someday." So I read the lines, I was laughing out loud. So I hand-wrote him a letter saying unequivocally yes, and sent it off.

How would you describe the character you play?

He's just a liar. One of the leads, Sally Hawkins, I'm an episode in her life. I'm one of those awful stories that women carry around. But it's also romantic in parts, and it's sweet.

Were you able to talk shop with Woody?

Woody is very economical with his time on the set. He tells you what you need to know, and then he watches the takes. I did have a couple days with him, where he threw a couple ad-libs at me, told me to try a few things, and so that was nervy and scary and fun as hell. I got to have lunch with him one day, and that was my day where we talked about Lenny Bruce and the hungry i and Mort Sahl, touring stories. He made me laugh really hard, the whole time.
Read the whole in depth piece at the New York Times.
'Louis C.K.: Oh My God' HBO Stand-Up Special Premieres Saturday, April 13. Check out the trailer below.