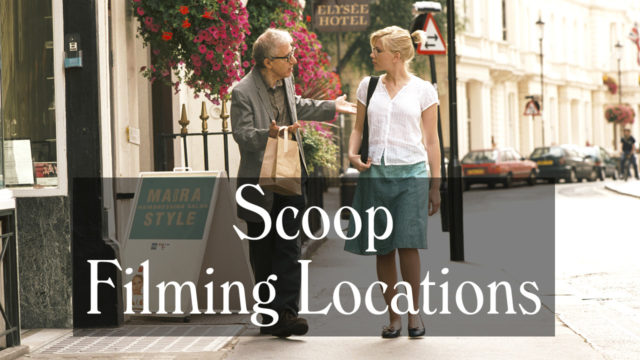 Scoop was the second Allen film to be set in London. Like he does in New York, Allen enjoys the finer neighbourhoods, even for low down characters. The lovely West London is the setting for the film. There is also an excursion to a beautiful property in Oxfordshire.
There is a little nod to tourist sites, notably the Royal Albert Hall. But like Match Point, the story is not particularly 'London'. In fact, none of the three main leads are British. Oh well.
Here's the filming locations for Scoop.
St Bride's Church
Fleet St, London, EC4Y 8AU
Opening scene, the church where we see a funeral.
Ealing Studios
Ealing Green, London W5 5EP
The scene of the afterlife were filmed at these legendary studios.
The Dorchester
53 Park Ln, Mayfair, London W1K 1QA
Sondra interviews a rock star and ends up in a room in the same hotel.
Holland Villas Road
London W14
Sondra stays with the Fultons. We see inside first, but the garden and outside. It looks like number 2 or so.
Shepherds Bush Empire
Shepherd's Bush Green, Shepherd's Bush, London W12 8TT
This legendary rock venue was redressed for the magic show –  establishing shots and crowd shots. Backstage is also used.
CityPoint
1 Ropemaker St, London EC2Y 9HU
Peter Lyman's office.
Pelham Galleries
23 Berkeley Square, Mayfair, W1J 6HE
The antiques gallery where Sondra and Sid fail to find Peter.
The Reform Club
104 Pall Mall, St James, SW1Y 5EW
The club reception.
Royal Automotive Club
89 Pall Mall, St. James's, London SW1Y 5HS
The pool inside the club.
Craven Terrace
Lancaster Gate, W2 3EL
Sid and Sondra walk up the street, ending up at a laundromat at 28. We see this street a few times, including reading papers at a newsagent across from the laundromat.
We later find out that Sid is staying at the Elysee Hotel at 25-26.
Haseley Court
Great Haseley, South Oxfordshire, Oxfordshire, OX44
Lyman estate, interiors and surrounds.
Westbourne Grove (cnr Denbigh Rd), W11
Sondra and Vivian go shopping.
8 Bassett Road
Ladbroke Grove, W10 6JJ
Peter Lyman's London home. We assume the interior and exterior match.
Mitre
24 Craven Terrace, W2 3QH
Across from Sid's hotel.
Holland Park
Ilchester Pl, Kensington, London W8 6LU
Peter gives Sondra a birthday gift.
97 Golborne Rd
W10 5NL
Indian restaurant where our heroes spot Peter.
Kensington Court (near Thackerey Street)
Kensington, W8
We follow Peter as he turns from Thackerey Street onto Kensington Court. He is not near the restaurant where Sid and Sondra saw him. It's a 40 minute walk away, and Lyman is doubling back on himself.
Royal Albert Hall
Kensington Gore, Kensington, London SW7 2AP
Peter walks along the west side of this legendary venue. The walk makes some sense here. He is a few minutes from where we last saw him.
Queen Alexandras House
Bremner Road, Kensington Gore SW7 2QT
The scene of the murder. We assume interiors match the exteriors. We also see it in the day.
The Observer
3-7 Herbal Hill, Farringdon, EC1R 5EJ
Real offices of the London paper. No longer there.
The Westway
Paddington
We see Sid driving along this major highway. He is right at the start. Paddington Green Police station is in the background.
Unknown filming locations. Not many this time. If you want to help us find others, here's our running list from other films.
Unknown filming location for Scoop. Pub after the funeral. London, probably central or west. pic.twitter.com/haIPbqfNGb

— Woody Allen Pages (@WoodyAllenPages) February 28, 2018
Unknown filming location for Scoop (2006). A members club where Sid and Peter Lyman play poker. A nice library too. Anyone know it? pic.twitter.com/2Lz6XozdXX

— Woody Allen Pages (@WoodyAllenPages) February 28, 2018
There's more Unknown Filming Locations from other films. Find all our extensive filming location guides, or check them out on a filming locations map.