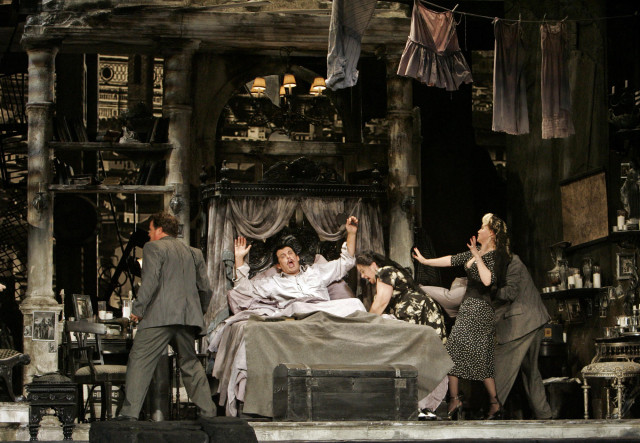 Woody Allen is set to direct an opera in LA. Called 'Gianni Schicchi', it will be the second time Allen will direct the piece for stage. The original 2008 production starred Placido Domingo, who returns for this 2015 performance. Performances at Los Angeles Opera will open their 2015-16 season.
It is not the first time Allen has directed 'Gianni Schicchi', which was written by Giacomo Puccini. Allen was asked to direct the piece for LA Opera in 2008. Domingo for his part is the LA Opera's general director. The opera will also play in Madrid in June and July.
The official synopsis:
Two legendary directors combine forces for a sensational season-opener. First, Plácido Domingo stars as Gianni Schicchi in Woody Allen's riotous staging of Puccini's comic masterpiece, conducted by Grant Gershon. When greedy relatives descend upon their kinsman's deathbed, they enlist Gianni Schicchi to rewrite the will to their benefit. Handed an opportunity too good to resist, the devious Schicchi turns the tables, securing the future happiness of two young lovers in the process.
According to the LA Times:
The staging is inspired by black-and-white Italian comedies of the 1940s and '50s, and is to feature the tenor in the title role.
'Gianni Schicchi' will play on a double bill with Franco Zeffirelli's production of 'Pagliacci'. The performance is part of LA Opera's 30th anniversary.
The performances start on 12th September til 3rd October, 2015. More information at about the full season at the LA Times. You can find out more about the production at LA Opera's website, where tickets will go on sale on 28th June 2015.
Above: a scene from the 2008 production.