Woody Allen is currently in France making his 2014 film, a 1920s comedy starring Emma Stone and Colin Firth. We've seen the leads – we now have a new image of the supporting cast in France.
The image was posted by Marcia Gay Harden (@beloving2). In the pic, l-to-r, is Jeremy Shamos, Hamish Linklater, Erica Leerhsen and Marcia Gay Harden herself. It's time off for them, and they look to be taking a cooling class in the south of France.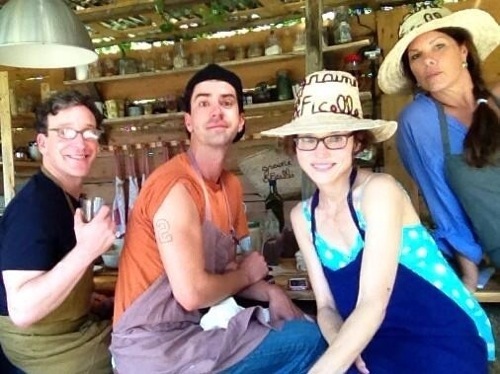 Harden is one if the few members of the new cast on twitter, and she has been posting many pics of her time around France. She is well worth following.
In related 2014 film news, we were sent a new video with footage of Allen filming a couple of weeks ago in Nice, at Nice Opera.
Allen will be in France until the end of August. If you see the crew filming, please send in pics!