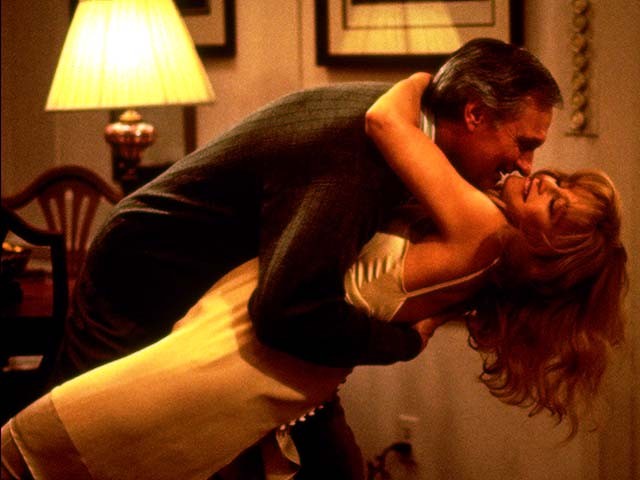 'Everyone Says I Love You' is the 26th film written and directed by Woody Allen.
Woody Allen makes another crowd pleaser – one that taps into the unbridled joy of MGM musicals, mixed with his modern New York. With a huge ensemble cast, a rush of small stories, and a beautiful European detour – it hints at the kind of escapist romantic films that Allen would make in Europe. But for this, how much you'll like it depends on how much you like musicals.
Woody Allen stars as Joe Berlin, part of a large extended family whose romantic adventures form the basis of this film. He is the father of D.J. Berlin (Natasha Lyonne), our hopelessly romantic narrator who meets a series of men around the world. Skylar Dandridge (Drew Barrymore) is in love with Holden Spence (Edward Norton) but longs for something more exciting. Von Sidell (Julia Roberts) dreams of being whisked away by a man to Bora Bora. Twin sisters fall in love with the same boy. And more. Look, there's just a lot of romance going on.
'Everyone Says I Love You' News Stories (show all)
Screenshots
Awards & Nominations (show all)
| Film | César |
| --- | --- |
| | |
Cast & Crew
Two return players – Alan Alda in his third and last film for Allen. David Ogden Stiers fourth of five films (he will return for The Curse Of the Jade Scorpion).  They both were in 'M*A*S*H*'.
The only cast member who had their singing voice dubbed was Drew Barrymore. Olivia Hayman provided her singing voice. Hayman had small roles in Small Time Crooks and Hollywood Ending.
Liv Tyler starred in a deleted subplot involving Lukas Haas.
Tracey Ullman and Kim Rossi Stuart were also cast in roles that were ultimately cut.
Business wise, this was a relatively troubled period for Allen. A new deal meant less money, and he would shed long time collaborators. This would be the final Allen film for producer Bobby Greenhut (who worked with Allen since Annie Hall) and costume designer Jeffrey Kurland (since Broadway Danny Rose).
Trivia
The Marx Brothers loom large over the film. The title is taken from a song used in their film 'Horse Feathers'. The film ends with a Marx Brothers themed party, and another Marx Brothers song 'Hooray For Captain Spaulding' is sung in French (originally used 'Animal Crackers').
From interviews, it sounds like this film was given a lot of cuts. Allen has remarked that he wrote a regular length script, and didn't take into account the song lengths.
Locations (show all)
'Everyone Says I Love You' was shot in three cities over two continents – New York, Paris and Venice.
Allen bumps into a jogging Julia Roberts at Campiello Barbaro, Venice.
Trailer
Gallery